Thursday October
27
2016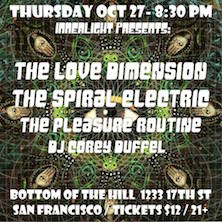 8:30PM

doors -- music at 9:00PM

•••

21 AND OVER




$

10

in advance

/ $12

at the door


The Love Dimension
www.thelovedimension.com/


Psychedelic, Garage, Punk, Surf, Country, Rock


The Spiral Electric
www.facebook.com/TheSpiralElectric/


Psychedelic Rock


The Pleasure Routine
www.facebook.com/p.routine/


Rock & Roll


DJ Corey Duffel
www.facebook.com/coreyduffel/


DJ
---

The Love Dimension
Jimmy Dias, Celeste Obomsawin, Devin Farney
Robinson Kuntz, Amy Jane Cronkleton, Mike Summers, Jeremy Walker
-from San Francisco, CA
-The ghost of San Francisco past looms large these days. Our beautiful city is caught in the midst of an identity crisis — it seems, at times, in danger of coming apart at the seams. That's why The Love Dimension's latest EP, Freakquency Space Mind Continuum, feels like such a nice surprise. It's a short, sweet, delightfully fun listen, a summery, surf-y, psychedelic revision of a time when life in San Francisco wasn't so complicated.

"Short and sweet" are the key words here: The EP is barely 15 minutes long. But that's OK: The tunes are so catchy and easy on the ears they encourage repeat listens.

The EP opens with "Together Again," its best and most memorable tune. It's a blast to listen to, a fun, playful, psychedelic pop ditty featuring stick-in-your-head, surf-inspired guitar licks, perfectly retro harmonized vocals, and simple, sing-along lyrics.

"When Soul Love Begins" sounds like a classic garage rock tune. "Surf Heart," much as its name implies, owes its existence to Dick Dale. "Get Real Wild" and "It Could Be Awhile," a song in two parts, is my least favorite on the EP, but it's still remarkably catchy, to its credit.

Fuzzy, hazy, lo-fi production is the rug that really ties the room together. You won't find any new ground broken on Freakquency, but sometimes unabashed nostalgia is all you need.





The Spiral Electric
Clay Andrews -- Vocals, Guitar, Keyboards, Percussion
Nicolas Percey -- Lead Guitar
Daniel De Lorimier -- Bass, Vocals
Tyler Weeks -- Drums
-from San Francisco, CA


-"Where am I ? – is it over jet? – eight miles high ? – so far gone ? – sorry, back to reality now – I just came back from an exciting journey around Spiral Electric land – their firstborn shows what this Bay Area outfit is all about: orchestrating a brightly colored, psychedelic cruise, using long-drawn, moody melodies, accompanied by misty, echoing harmonies that grow softly on you – trippy drums, sitar vibes, 60s organs and wah-wah guitars in the sky with diamonds – the psychedelic scene is quite big in San Francisco, to stand out and be noticed is not always an easy ride unless you deliver the sonic goods which this electrifying four piece does with magnificent instrumental compositions produced with a mind-blowing flair and an inventive 60s sensibility – relax, put your headphones on, lights out, volume up and start the soundtrack of your spiritual cruise – have a safe trip across the universe.…" - Turn Up The Volume






The Pleasure Routine
Kevin Sofsrud - Lead vocals, guitar
Eric Mcdonald - Rhythm Guitar
Nate Tang - Lead Guitar, Vocals
Kirk Jacob - Bass
Harry Gibbons- Drums
Lauren Kopp - voice, Tambourine
-from "Da Bay" CA
-Oakland sextet The Pleasure Routine is a throwback to decades past, when bands meticulously crafted vintage tones and timbres, capturing their moody and dreamy sonic landscapes on analog tape.

Creating a musical language that is both contemporary and timeless, The Pleasure Routine transports its listeners to an alternate realm, where jangly guitars and atmospheric rhythms support the raw and emotional vocals of Kevin Sofsrud and Lauren Kopp, who share their intimate tales of awkward youth, coming of age, and disaffection.

More than just a combination of three guitars, a bass, keys, and drums, along with the occasional harmonica and tambourine, The Pleasure Routine captures a sound – much like The Velvet Underground, The Brian Jonestown Massacre, and Nick Cave & the Bad Seeds before them – that is conflicted between optimism, realism, doom and darkness, as evidenced on their upcoming 2016 debut LP Sugar Mountain.



DJ Corey Duffel
-"I am the Nightrider. I'm a fuel injected suicide machine. I am the rocker, I am the roller, I am the out-of-controller!"