Sunday October
30
2016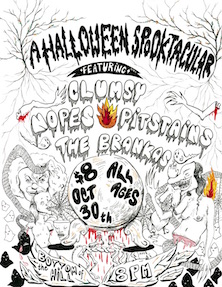 8:30PM

doors -- music at 9:00PM

•••

ALL AGES




$

8




A Halloween SpoOktacular with...


Clumsy
www.facebook.com/clumsysounds/?fref=ts


experimental psychedelic rock'n'roll shoegaze


Nopes
www.facebook.com/nopesband


skate punk


Pit Stains
pitstains.bandcamp.com/


punk garage synth


The Brankas
www.facebook.com/TheBrankas/timeline


punk experimental noise
---

Clumsy
Matt Horton, Fabrizio Incerti, Adam "Young Boi" Wilson
-from Oakland, CA


-Across the street I saw a fur nose. Where are you my clever friend?






Nopes
Gabe, Kevin, Eagret, Alex
-from Oakland, CA


-"We all played in bands together beforehand at different times. I think we all just got pretty bored at once. Nopes is a lot of fun for us. Everyone was playing more indie-rock, poppy sorta music for a while before this, which is kinda alright and all… but we definitely like writing faster, weirder, and louder songs much better. Plus, the live shows are way more fun.We're touring this summer up north to Redding, Portland, Seattle and Olympia. We're also hoping we can hit Southern California and some of the south by the end of the year. We've already started writing our LP, and will be recording it in November for an early 2016 release on Magnetic Eye Records."






Pit Stains
GUITAR/VOCALS: Spencer Owings
BASS/VOCALS: Alex Pollak
DRUMS: Alex Ferraz
-from San Francisco, CA
-PIT STAINS IS A COUPLE OF MIDDLE AGED MOTHERS BAKING COOKIES FULL OF CRACK ROCKS.
GET EM WHILE THEY'RE MOIST...
(Narcs & Yuppies need not apply)
P!TSTAINZZ!Z!!




The Brankas
Taylor McElroy - Drums/Synth
Theo Slavin - Guitar/Vocals
-from San Francisco, CA
-The Brankas are Taylor McElroy and Theo Slavin, two polite young men who live in San Francisco. They named the band after Glenn Branca and though they got the spelling wrong, it still counts. Some people you've never met say they sound like Hella, No Age, but also like Pavement-turned-up-to-11. They've been playing since 2011, but actually started taking it seriously in 2014, thanks to a New Years Resolution. They have had a fun time playing out around the Bay Area, including shows at Bottom Of The Hill, The Down Dirty Shake's Residency at The Milk Bar, and their friend Jack's one room apartment in Oakland, next to the freeway. They also embarked on a tour down to Southern California in September 2015 and still get along. Their debut EP "Exchanges" is set to be released February 11th, 2016. It's something they finally feel pretty decent about, but you can decide that for yourself. They're really hoping they can get it together and cover Mr. Mister's "Broken Wings".