Monday October
31
2016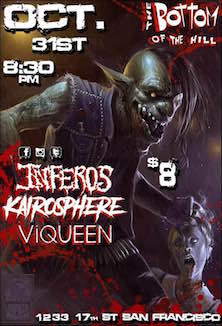 8:30PM

doors -- music at 9:00PM

•••

21 AND OVER




$

8




Special Halloween show featuring...


Inferos
www.facebook.com/INFEROSESPIRITU


death metal grind

.


Kairosphere
kairosphere.bandcamp.com/releases


progressive metal


ViQUEEN
www.facebook.com/viqueensf


.

East Coast Metal, Americana, Riotgrrrl
---

Inferos
Sean - Guitar/Vocals,, Vince - Bass,
George- Drums, Jim - Guitar/Vocals
-from Bay Area, CA


-INFEROS is a 4 piece metal band from the San Francisco Bay Area of California.






Kairosphere
Emma Hyatt - Drums, Latashia Govan/Sgt. DieWies - Vox
Adam Tanguay - Guitar, David Kelley - Bass, Ray Zamora - Guitar
-from San Francisco, CA
-Kairos (καιρός) is an ancient Greek word meaning the right or opportune moment (the supreme moment). The ancient Greeks had two words for time: chronos and kairos. While the former refers to chronological or sequential time, the latter signifies a time lapse, a moment of indeterminate time in which everything happens.

In rhetoric, kairos is a passing instant when an opening appears which must be driven through with force if success is to be achieved. Kairos was central to the Sophists, who stressed the rhetor's ability to adapt to and take advantage of changing, contingent circumstances.

The music and atmosphere we create as a group is the manifestation of our combined character, (com)passions, intrinsic inspiration, and exploratory tendencies; both within the kairos of the sonic spectrum as well as the within the larger context of the atmosphere we strive to create.




ViQUEEN
Alexa Rae (Guitar, Lead Vocals), Courtney Cavanagh (Bass, Vocals), Emma Hyatt (Drums)
-from San Francisco, CA


-VIQUEEN is an all-female powerhouse featuring heavy sound and thoughtful melodies. While based out of San Francisco, their roots are widespread. The conglomeration of backgrounds results in a unique sound that highlights elements of East Coast Metal, Americana, and the Riotgrrrl movement.