Wednesday
November 2
2016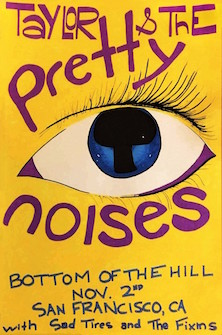 8:00PM

doors -- music at 8:30PM

••• 21 AND OVER




$

8


Taylor & The Pretty Noises
www.prettynoises.com/


Alternative / Rock / Indie


Sad Tires
www.facebook.com/TheSadTires/


blues punk


The Fixins
m.facebook.com/thefixins/


folk, jazz, and blues-rock
---

Taylor & The Pretty Noises
Joel Alan Taylor
-from Lancaster, PA
-Joel Alan Taylor has formed a new trio in San Francisco with his friends he calls The Pretty Noises. From the east coast to California, Taylor has been making pretty noises since 2012. whether solo or with San Francisco's rock band The Cooper Taylor Project. Taylor and The Pretty Noises are intent on playing rock n' roll that is fresh, fun and powerful. Joel Alan Taylor's songs are centered on witty lyricism and disdain for pop song structure, along with a love of fuzz and melody, Cole Bailey on drums and Sebastian Strugholtz on bass are strong musicians who carry Taylor's guitar and vocals through the dynamic songs with a easy rock n' roll attitude.

"[Joel Alan] Taylor mixes elements of Jimi Hendrix and Seatlle grunge into whatever he does," and "his honesty and an artist is undeniable."

.






Sad Tires
Kyle, Eric
Devan, Scott
-from San Francisco, CA
-Sad Tires like to party. Formed in January 2013, blending early 70's blues rock sound with modern speed and attitude, Sad Tires is a band to behold live with raging riffs and wild stage presence.

Four guys from California converged in SF to create a rocking west coast sound. Always expect a party, always expect guitars, and always expect drink to be flowing and folks to dancing' when the Sad Tires around!





The Fixins


-from San Francisco, CA




-The Fixins are a San Francisco band that plays a wide catalogue of original music, including mostly rock and upbeat folk music with a touch of some groovy improvisational jammage. We strive to create music that keeps people groovin' and smilin', and to provide a welcoming environment and soundtrack to keep the good times rollin' for ourselves, and our fellow earthlings and music lovers. The Fixins believe in music as a powerful connecting force and strive to achieve a raw musical experience that transcends us as individuals. We hope to have you along for the experience.