Friday November
4
2016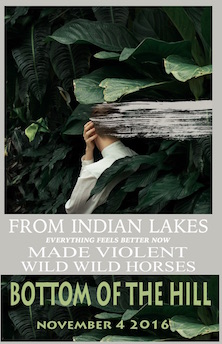 8:30PM

doors -- music at 9:30PM

•••

ALL AGES




$

15


From Indian Lakes
www.fromindianlakes.com/


Indie folk rock emo


Made Violent
www.facebook.com/madeviolent/


slacker rock and roll


Wild Wild Horses


from London, UK


wildwildhorses.com/home


Alternative, Rock
---

From Indian Lakes
-Yosemite National Park Area, CA


-lifornia's From Indian Lakes are thrilled to announce the new album Everything Feels Better Now, out this coming October on Triple Crown Records. The brainchild of songwriter and multi-instrumentalist Joey Vannucchi, From Indian Lakes takes its name from Indian Lakes, CA, a small community outside of Yosemite National Park near where Vannucchi grew up on 40 acres of land with no electricity aside from a sparely used generator. Everything Feels Better Now is the third full-length release and the follow up to From Indian Lake's 2014 album Absent Sounds, which won praise from a wide swath of the critical landscape including SPIN, Nylon, Stereogum, Kerrang, and A.V. Club who called it "a little slice of pop perfection." among others . From Indian Lakes will embark upon a national headline tour in support of the new album this fall.






Made Violent
justin acee - drums joe white - vocals and bass rob romano - guitar and vocals
-from Buffalo, NY


-This band's garage-rock rawness mixed with pop sensibility and radio readiness has always been a recipe for success, but the musicians said they want to remain down to earth and remember their roots. "Our presence on social media is an outlet for us to show the world our energy and that we're not some star-struck, molded piece-of-plastic band that no one can relate to. We're just three guys who write and play music, and those who know us know that energy goes right into our live shows,"






Wild Wild Horses
Jack Edwards (vocals, keys) Billy Adamson (guitar)
Jonathan Harvey (bass) Greg Rogove (drums)
-from London, United Kingdom
-Not all studio musicians were meant to stay in the booth.

Boasting a diverse set of musical backgrounds, the four members of Wild Wild Horses have collectively worked with almost every major indie-pop artist in the past half-a-decade. Yet, not content with staying behind-the-scenes, frontman Jack Edwards had a different vision—a vision to make his own name, out of the shadow of others.

Originally from Kent, England, Jack signed with LA-based Buskin Records in August 2014. As the sole founding member and songwriter, Jack returned to London to form his dream team. Finding studio musicians of a similar pedigree, Wild Wild Horses came to include British-born Billy Adamson (Jess Glynne, Amy Winehouse) and Jonathan Harvey (Mika, Elle King) on bass, with the American Gregory Rogove (Unknown Mortal Orchestra, Latin Grammy Winner) on percussions.

Named after the eponymous Rolling Stones song, Wild Wild Horses compose stirring alternative pop-rock tracks. With subtle electronic interjections mixing into the band's powerful, catchy riffs, their music carries the vibrant beat of today while aspiring to the lofty heights of the classics.