Friday
November 11
2016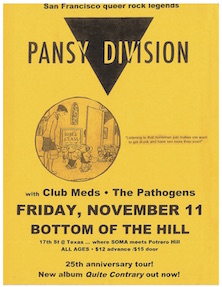 8:30PM

doors -- music at 9:30PM

•••

ALL AGES




$

12

in advance

/ $15

at the door


Pansy Division
www.pansydivision.com/www.pansydivision.com/Home.html


Queercore pop/punk


Club Meds
www.facebook.com/clubmedssf/


Metal/Punk: Post-Punk


The Pathogens
www.facebook.com/thepathogens/


Rock n fuckin roll
---

Pansy Division
Chris Freeman—bass, vocals
Jon Ginoli—rhythm guitar, vocals
Luis Illades—drums
Joel Reader—lead guitar, vocals
-from SF/LA/NYC
-There have been gay musicians hidden throughout rock music history, but Pansy Division when began in 1991 in San Francisco, they were the first to to be so boldly open about it. Founded by guitarist/singer Jon Ginoli and soon joined by bassist/vocalist Chris Freeman, with the intent of forming a gay rock band, Pansy Division blew the closet doors open.

Raised on a diet of 60s pop and 70s punk, their sound was suitably crunchy and catchy as hell. They wrote in-your-face lyrics, but did it with a sense of humor. Not only did their music and stance defy stereotypic norms of rock musicians being openly gay, they also broke gay cultural stereotypes that rock wouldn't interest gay people. With album titles like Undressed and Deflowered, and song titles like "Bill & Ted's Homosexual Adventure," their bluntness and humor stood out amidst the '90s alterna-rock scene. Says Chris Freeman, "there was a lot of gay culture we couldn't relate to, so we tried to invent a place for ourselves in it, an alternative for other queer misfits." Pansy Division's most recent album, titled That's So Gay, is raucous and raunchy as well as being serious-minded. With some of their catchiest and most rocking songs ever, they're still loads of fun without being ironic or cynical. Vice Magazine will hate it!




Club Meds
Kenneth L. Kemp - Vocals
Mike Miraglia - Keys
Mat Côté - Drums
Isaiah Lara - Guitar/Electronics
-from San Francisco, CA


-In a dank room, below an ancient queer dive bar, three tops and one messy bottom create the Club Meds sound.






The Pathogens
Cinder Block, Markley Hart,
Sebastian Stuart,, Noah Weber,
Jovino Bunny, Jesse Luscious,
-from Oakland, CA
-A punk band from Oakland, CA featuring members of Tilt, The Criminals, Fracas
The Grups, Blatz, The Undead Boys, and The Twots!