Saturday
November 12
2016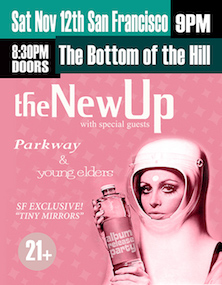 8:30PM

doors -- music at 9:00PM

••• 21 AND OVER




$

12

in advance

/ $15

at the door
The New Up


(Record release)


www.thenewup.com/


Indie / Electro / Rock


Parkway
iheartparkway.bandcamp.com/releases


indie rock Oakland


Young Elders
www.facebook.com/theyoungeldersr


.rock fuzz pop progressive psych
---

The New Up
ES Pitcher: vocals, guitar
Noah Reid: guitar, vocals
Hawk West: automation
Nick Massaro: bass
Art McConnell: drums
-from San Francisco, CA
The New Up's Tiny Mirrors came to life in three distinctly charmed spaces: a self-built studio in the group's "band house" in San Francisco, an intimate Marin home surrounded by redwoods, and a secluded barn in a seaside Mendocino town. In each space (all located in the band's Northern California home turf), The New Up channeled their DIY spirit and sonic ingenuity into infusing gritty garage rock with lush textures and lavish atmospherics. Equally the result of an exacting, metamorphic songwriting process, Tiny Mirrors reveals itself as a gorgeous paradox: a collection of songs that give a bracing glimpse at the state of the world but still feel fiercely intimate; an album that's supremely life-affirming despite all its apocalyptic overtones.

Politically charged yet intensely introspective, raw in emotion yet cinematic in scope, Tiny Mirrors explores the notion of overcoming disconnection by "looking at our own reflection first and seeing more than just tiny, disjointed fragments," according to Pitcher. "It also reflects the fragmentation of our society and how, more and more, our differences are portrayed as a negative thing rather than a symbiosis of these 'tiny mirrors'—like a mosaic." Adds Reid: "The album touches on the nature of relationships…everything from individual friendships to the relationships between different countries or cultures, and the fact that they all stem from the relationship that we have with ourselves." Pitcher continues: "The music that we love—the music that really speaks to us—takes risks and makes an impact, and there seems to be less of that in this day and age. We wanted to bring back that punk-rock edge with a message of equality and peace reminiscent of Bob Marley and U2, but with our own unique sound."

But as a result of their determined perseverance, The New Up ultimately gave life to an album that wholly embodies their mission as a band. "It touches on what it truly means to be human, and looks at where we are, where we've been, and where we're going in a way that most people can relate to, but often don't," says Reid. "The emotions in the music convey much more than words often can—there's a simultaneous feeling of hope and desperation that is difficult to balance in a way that is tangible, but we feel these songs manage to do that," he continues. "And that's the most important aspect of everything we're going for with this band: embracing the absolute truth and living with it and really making the most of it, no matter how painful or ugly—or beautiful—it might be."





Parkway
Russell Arteaga, drums, Jeremiah Johnson, bass, Saagar Kurani, guitar
Kate Lewis, vocals and synth, Jordan Shapiro, guitar
-from Oakland, CA


-Parkway has been described as the tone between shoegaze and new wave, perhaps dubbing the yet to be defined shoewave. It's indie rock with a swirl of guitars that can go from ethereal to assault in the blink of an eye added to stunning vocals and haunting melodies that have a slight pop sensibility.






Young Elders
Nick Castro - voice, keyboards, guitar, Christina Mansfield - voice, moog, percussion,
Kyle Chapman - voice, guitar, David Volker - drums,
Everett Katigbak - guitar, baritone guitar, Tyler Wood - bass guitar
-from San Francisco, CA
-young elders are a psych-rock band from San Francisco bringing street harmonies and psychedelic wizardry on the edge of a blade. They replaced the acoustic instruments of their first albums with Moogs, combo organs, and fuzz guitars.

Lead songwriter Nick Castro is known for his acoustic work that featured members of Current 93, Espers, and In Gowan Ring, as well as for his time in legendary UK psych-pop band, Kaleidoscope. Castro, who currently also plays with Asteroid #4, has played Spain's EuroYeYe, the Austin Psych Fest, Belgium's ZXZW festival and has shared stages with the Sun Ra Arkestra, Vetiver, and Os Mutantes among others.


Along with Nick Castro on lead vocals and keyboards, the current members feature veteran musicians Kyle Chapman on lead guitar and vocals, Christina Mansfield on Moog and vocals, David Volker on Drums, Tyler Wood on bass guitar, and Everett Katigbak on 12-string, baritone, and rhythm guitars. Though this newest lineup is less than a year old, they've already played shows with Chicano Batman, Mondo Drag and Asteroid #4 at venues across San Francisco, such as Bottom of the Hill, The Independent, and The Rickshaw Stop.