Wednesday
November 16
2016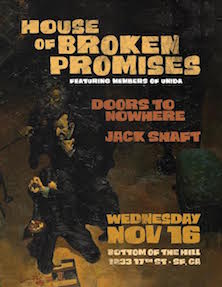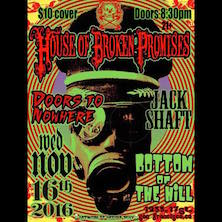 8:30PM

doors -- music at 9:00PM

••• 21 AND OVER




$

10


House Of Broken Promises
houseofbrokenpromises.com/


desert-stoner rock/metal


Doors To No Where
doorstonowhere.com/


rock and roll


Jack Shaft
www.facebook.com/jackshaft/
metal
DJ Rob Metal


metal DJ
---

House Of Broken Promises
Arthur Seay, Joe Mora, Mike Cancino
-from Indio, CA
-HOUSE OF BROKEN PROMISES is an Indio, CA based desert-stoner rock/metal band
consisiting of guitarist Arthur Seay (Unida, ApeSh!t), bassist/vocalist Joe Mora (HDR, Street
Drugs DTLA, The Adicts) and drummer Mike Cancino (Unida, Lynch Mob). Formed from the
ashes of UNIDA (which also featured John Garcia of KYUSS fame), HOUSE OF BROKEN
PROMISES is a pure shot of classic hard rock, stoner rock and metal. With their Small Stone
Records debut "Using the Useless" this trio lead the charge in a more refined stoner metal
approach than the standard stoner rock sound of similar scene bands. Now recently
signed to Eternal Sound Records, The world awaits their second release "The New Dystopia".
HOUSE OF BROKEN PROMISES incorporates bombastic drum beats with guttural vocals and
tuned-down guitars. Also composing songs dealing with social instability, political
corruption, the dangers of drug abuse and apocalyptic prophecies. Now with two tours of
Europe under their belt, that contained performances at HellFest 2014 and DesertFest Berlin
2013 and DesertFest London 2013, they our about to embark on their third starting with
DesertFest Athens 2016 Let it be known that HOUSE OF BROKEN PROMISES is the definition of
a hard rock power trio.




Doors To No Where
Marc Lewis, Sean Sanford, Peter Testorff
-from Santa Cruz, CA
-Californian trio Doors To No Where have been together as a band since 2011 but the three musicians had been crossing paths long before this via their involvements in other bands and projects.
In 2015 the band, Marc Lewis (guitar/vocals), Sean Sanford (bass/vocals) and Pete Testoff (drums) came into Desert Psychlist's orbit via their second album "Lucky You" an addictive mixture of stoner/desert and classic rock sprinkled with touches of southern flavouring. On October 28th (2016) Doors to No Where will be releasing their third full length album "The Haunting" via ITunes and Bandcamp as well as their own website




Jack Shaft
Patrick, Anthony, Marwan and Sean
-from South San Francisco, CA


-Jack Shaft is a covert, federally-funded stoner metal band operation who's dual purpose is to provide a clandestine environment for one or more highly trained black-ops government assasins while also performing unauthorized volume and rhythm experiments on the general public in real time.





DJ Rob Metal
DJ Rob Metal
-from San Francisco, CA
-* A Vinyl Junkie and Purveyor of Extreme Metal ,Stoner Rock and the rest of
the Dysfunctional Family Tree.
* May have been seen at thee Parkside, The Knockout, The Fillmore, and
various other venues who cater to the genre.
Seems to be found at The Bottom of the Hill & DNA Lounge.