Tuesday
November 22
2016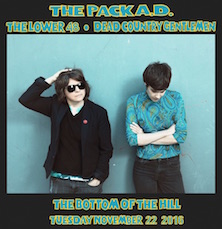 8:30PM

doors -- music at 9:00PM

•••

21 AND OVER




$

12


The Pack A.D.
www.thepackad.com/


Garage Rock/Psych/Punk/Pop


The Lower 48
www.thelower48.com/


60's pop rock & roll


Dead Country Gentlemen
www.deadcountrygentlemen.com/


Garage Rock
---

The Pack A.D.
Becky Black - Guitar, Vox //
Maya Miller - Drums, Chorus Vox, Punch Lines
-from Vancouver, BC
-Destruction and melody, acid wit and bruising vocals—this is the Pack A.D. Singer/guitarist Becky Black and drummer Maya Miller have made a sound so gigantic, so fierce and raw and empowering, that it's easy to forget there are just two people behind this brilliant, carefully constructed havoc. Shredding and pounding their way through every song, the Pack A.D. swallows you whole inside their fearless Franken-blend of heavy psych-pop/garage-rock. Their lyrics are wild nests, human and complex: darkly funny disclosures about depression; indictments of digital excess; grief-stricken fire bombs; sly crusades against stupidity. The Pack A.D. is also one of Canada's "must-see" bands. Be it a massive stadium or the slightly seedy bar where everybody's shoes stick to the carpet, the Pack A.D. have owned every spotlight and stolen every show they've ever played. Becky and Maya are relentless and riveting, playing with the kind of fuck-off freedom that makes everybody in the room vicarious rock stars, even if it's just for the night.

-




The Lower 48
Ben!, Sarah!, Nick!
-from Portland, OR
"I heard they're all left handed. They had to go to a special class at the same school."
"No, I swear to god they met in the minor leagues. Bench warmers."
"Yeah, well I heard they moved out to the West Coast to claim an inheritance from a phony uncle and they got stranded."
"I don't believe any of the rumors, but you can tell they've done some hard time by the way they sing harmony." This much we know: The Lower 48 came west to Portland, Oregon when the weather got cold. They play 1960s-style pop rock and roll, and they have a big year planned.




Dead Country Gentlemen
Cameron Ray - Guitar/Vocals, Pearce Merritt - Keys, Evan Kaiser - Drums
-from San Francisco, CA
-Dead Country Gentlemen are a San Francisco-based trio fronted by Cameron Ray, a California-born songwriter raised amid the bright lights and dark motives of Las Vegas. Joined by Evan Kaiser on drums and Pearce Merritt on keys, the band's music combines thundering distorted guitar, stomping rhythms and catchy melodies with emotionally charged lyrics about love and loss.

Having played throughout San Francisco, Oakland, Berkeley, Santa Barbara, Ventura, Ojai, San Luis Obispo, Reno, and Las Vegas, Dead Country Gentlemen put on a loud, high-energy live show that often results in breaking a sweat, breaking a string, and on some occasions, breaking skin.