Friday
November 25
2016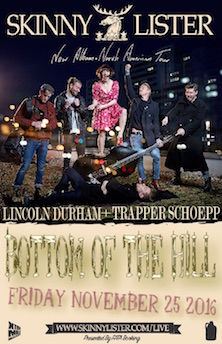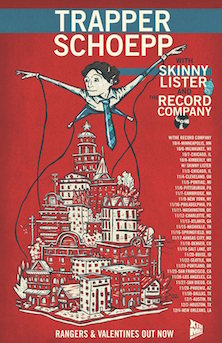 8:00PM

doors -- music at 9:00PM

•••

ALL AGES




$

15

in advance

/ $18

at the door


Skinny Lister


from London, UK


skinnylister.com/


folk


Lincoln Durham
lincolndurham.com/


Southern-Gothic/Psycho-Blues/Revival-Punk One-Man-Band


Trapper Schoepp
trapperschoepp.com/


Rock, Americana
---

Skinny Lister
Lorna Thomas . Daniel Heptinstall .
Maxwell Thomas . Michael Camino .
Thom Mills . Sam Brace
-from London, UK
hey've held gigs in Land Rovers. They've sung while wing-walking. They've toured in a narrow boat. They've stomped and jigged on restaurant tables, in hotel elevators and in record label car parks. And wherever they play their lusty shanties, punk folk roar-alongs and crazed whirls of love, fighting and hardcore drinking – be it festival camp-fire, pub snug, Vans Warped Tour or to 5000 people crammed into a tent at Fuji Rock – you'll find them out dancing with the crowd, passing around their flagon of rum or crowd-surfing to the bar, double-bass in hand, to neck shots mid-song. Make no bones – Skinny Lister are the wildest party band you'll ever get drunk with. And you will get drunk with them.

"We still have the flagon," says singer, guitarist and one-time chief of the stomp-box Dan Heptinstall. "We pass a flagon of rum out to the crowd and everyone partakes of the flagon."

"It's the core of folk music," explains singer and mandolin player Max Thomas, "we'll always have that everyone-singing-rip-roaringly-loud-in-a-pub togetherness." At Skinny Lister gigs, whether being accosted by their glamorous assistants The Skinny Sisters or made to chug from the communal rum sack, the audience always feels part of the band. "And sometimes they can be," Dan laughs. "If someone's there with a fiddle, or we've had drummers come up who've brought a snare drum with them. We're quite open to that, in a folk club sort of situation."

That is, after all, exactly where Skinny Lister sprung from. Max and his singing and dancing sister Lorna were brought up in a folk music family, their father George – a folk music radio DJ – taking them to art fairs and folk events as kids to try to rid them of their bump'n'grind tendencies. It worked: as they hit pub-going age, they began learning to play jigs and reels on the accordion so they could play with their dad, in the classic tradition, over foaming pints. They even formed an Americana bluegrass family band, playing Christmas festivals and pub shows.

"We used to get dressed up in 1900s gear like Little House On The Prairie and do the 'howdy' sort of thing, and I started singing," Lorna recalls. "Basically, Max became the angel child 'cause he wanted to play music with my dad, and I was like, 'well, goddammit, I'm going to play music with my dad too!'."

Meanwhile, fishmonger's son Dan was busy moving to Greenwich from the East Yorkshire fishing town of Bridlington, his head full of shanties, and infiltrating the local folk scene. That he was a fishmonger's son rather than from trawlerman stock didn't stop him having the seafaring songs in his soul. "I don't think you need to be a fisherman or a sailor," he says. "In Greenwich you felt like you were living on the sea front, you know, in the harbour really. Next to the house I lived in, which was on the central square in Greenwich, they used to have a folk night where everyone used just gather in there, play jigs and reels and sing sea shanties, and we used to go in and join in with the sea shanties, and we sort of borrowed some of those shanties, and we still do them now in the set."

Hooking up with Max, the pair began playing traditional folk reels in Dan's front room around 2009 on guitar and squeezebox, then graduated to playing the pub next door. "It used to go down really well, used to sort of get the party started," Dan says. Soon Lorna saw her chance to get into festivals for free by joining them as their singing dancer, and alongside guitar and concertina wielding Sam 'Mule' Brace, and double bass playing Dan 'Tash' Gray, the five-headed dervish known as Skinny Lister burst jigging, swilling and 'arrr!'ing from the very heart of the celebratory folk tradition.

"We made it a lot more English sounding," Dan says, "English polkas rather than Irish, and rather than the Americany Mumford sound. We wanted to make it very English, but there is a bit of Celtic in there, a bit of Irish, a bit of Scottish, so we do all that sort of stuff too. Lots of shanties, even the original songs."

From day one, Skinny Lister set out to cause chaos and make friends. They recruited a gaggle of friends called the Skinny Sisters to dance and cavort around their shows with the flagon of rum ("We had to sack them because they drank the rider, there was never any booze left for us," Lorna says). One of their first exploits was to hire a canal boat and sail the Grand Union canal from the midlands to Camden, playing pre-arranged pub gigs by night and recording an EP – 2010's The Grand Union EP, featuring the rollocking pop barnstormer Rollin' Over as well as traditional shanties and canal boat songs and a guest spot from Lorna and Max's dad George – by day. Lorna made denim sleeves for the CDs and they gave them out at the end of the tour.

"Sometimes there'd be nobody there," said Max, "but it was such a crack that the next day we'd have like four or five people, and then it built throughout the tour. Through the Towpath Telegraph the word spread that there was this boat-band."

"A Lister engine is the engine of a narrow boat," Lorna says. "We didn't know that but it worked for us, so we had like a boating community follow us down."

Next they toured each of their hometowns, recording the Home Made Tour EP in cars and hotels as they went, featuring the story of a sailor with two eyes tattoo'd on his arse. Before long Skinny Lister were becoming known as the hardest playing, hardest partying band in the country, word reached the ears of Rob Da Bank, the DJ and mastermind of Bestival, and he offered them a deal for an album on his Sunday best label.

Contract inked, Lister set about partying their asses clean off. Over the course of 2011 they played more festivals than any other band in the world (Ed Sheeran came second), and often played three or four sets per festival. "That was how we really cut our teeth on the UK festival circuit," says Max, "and homed our diddling and parties and drinking by doing however many it was that earned us that awful accolade, 'The Hardest Working Band In Britain'." "We were the hardest partying!" Lorna says. "We just wanted to go to festivals."

Somehow they also managed to find ten days to get to Bryn Derwen Studios in Snowdonia with producer David Wrench and record their 2012 debut album Forge & Flagon. "There was no central heating and there was proper snow, it was freezing," Lorna remembers, and Max adds, "he'd gone up this mountain and decided that this house would be a good place to record." The album was a sublime concoction of reeling folk mania such as Forty Pound Wedding Song (video: the band pack eleven people, a chicken and a dog into a gig in a Land Rover), sweet-hearted pastoral paeans to countryside revels like Colours (video: a coach trip to watch Lorna wing-walk on an aeroplane) and tales of urban wastreldom on the ruined London streets like Seventeen Summers (video: the band busking through the filthy Soho streets gathering fiddlers and bagpipers).

Hitting SXSW at the start of 2012 changed their fortunes again. Catching the attention of several major bookers and Side One Dummy Records at an open mike show at an Irish them pub, they landed a deal with Side One after an audition in the label's LA car park and slots at Coachella 2012 and on that year's Vans Warped tour.

That seven week tour catapulted them into the heart of America. "I suppose when we go to the US it touches something in them, where they think they feel some sense of history or something," says Max. But though the tour was great fun, with Lister entertaining the screamo and hardcore bands at after-hours barbeques and winning fans at every stop, it took its toll on their original line-up. By the time the Vans Warped Tour was starting to bleed into another lengthy jaunt with Flogging Molly, double bass player Dan Gray had fallen by the wayside.

"It's the casualties of any live rock band," Max argues. "You go through that phase. You're investing so much time and financially it's hard to make a living so there's a natural tension that pulls people." "People learn whether it's what they want to do or not," Lorna adds.

So Skinny Lister regrouped. To tour with Flogging Molly and on the Vans Warped tour in Europe they recruited Hawaiian punk rock bassist Michael Camino, a man prone to crowd-surfing to the bar on his double bass to get booze mid-song, so the perfect man for the job. By the autumn of 2013, inspired by the noisier bands they'd been touring with, they'd expanded to a six-piece with the addition of drummer Thom Mills. "The drums has given us another tool just to take it somewhere a bit different," Dan explains. "Now we've got the ability to bring the back-beat. In the new material we're throwing in a lot of stuff that sounds more like The Clash or The Jam or Dexy's. There's a lot of that going in on top of the folk foundation. We're not restricting ourselves to something that sounds really traditional."

In the meantime, Skinny found themselves breaking territories across the world. Having made serious inroads into the US on the Vans Warped tour, they took Germany with one incredible show at Haldern Pop Festival where they set up their own PA between the main stages and caused a drunken dustbowl riot. "Suddenly we gathered this just mad crowd," says Mule, "I mean if you were stood at the back you wouldn't have been able to hear us but I think you could just feel the energy, the dust flying…" "I did my first crowd surf!' Lorna yelps.

Then, at Fuji Rock, they unexpectedly broke Japan with just three gigs. "We did the opening night which is the pre-party night when there's not much on," Max says. "We got put on at 9pm in the big tent and we walk out to about 10,000 people. This is one week after the record's been released so no-one knows us but we walked out to this sea of Japanese kids going nuts."

Lorna: "We actually felt the floor rumble. During the end of 'Colours' I did something with my hands and I don't know what, but they all sat down from the front all the way to the back and then got up again like a big Mexican wave. We sold more CDs than any other band."

So it was a bright and bristling Skinny Lister that descended on Rockfield Studios in December 2013 to record their second album, Down On Deptford Broadway. Taking a more urban slant, the record takes in city-wide pub crawls (Six Whiskies), hazy lock-ins (George's Glass), the struggles of modern living (This Is War) and, on the Clash-esque first single Trouble On Oxford Street, a real-life fight that Dan had in the West End. "That's about me getting kicked in on Oxford Street by a couple of punk guys because I ruffled his hair," he explains ruefully. "He told me not to do it so it was kinda justified but I lost teeth and had to go to hospital."

Lister have been just as musically mischievous on the record too. Between their Celtic swings, romantic folk balladry and grand sway-along anthems, they've taken on a host of fresh inflections, from Costello to Tenpole Tudor. The roof-raising Cathy – one of several songs about "a scarlet lady, someone that you've fallen for that you shouldn't have fallen for" – is built around a Wall Of Sound beat and, cheekiest of all, they've borrowed the distinctive rhythm of Adam Ant's Prince Charming for the roaring devotional Raise A Wreck. "I'd written it just as a vocal-only sea shanty," says Dan, "and I was discussing it with Ted [Hutt], our producer, and we thought we could make it even bigger by putting some accompaniment to it. I've been listening a lot to Adam Ant so I thought it'd be alright just to borrow that rhythm, which is an amazing rhythm. I've not heard it on any other record."

"We're trying to push forward the sound we had before," Max explains. "We don't want to be a static band that just does this, we want to move with whatever influences are going on around us all the time. We might end up being a band that's got quite a different feel to each album."






Lincoln Durham
Lincoln Durham
-from Texas/New Jersey
-Armed with old bastardized mid-century guitars, hand-me-down fiddles and banjos, home-made contraptions with just enough tension on a string to be considered an instrument and any random percussive item he can get his claws or hooves on, Lincoln Durham is an amped up Southern-Gothic Psycho-Blues Revival-Punk One-Man-Band preaching the good word of depravity. With driving guttural beats back-boning his growling instruments Lincoln births a sound that transcends genres while telling dark and raw tales that Mr. Poe would have blessed with his own tears.

His last album, Exodus of the Deemed Unrighteous, aimed to take a hundred-foot scythe to the doubters and the naysayers; and, as if he's left the field decimated as evidence of his victory and has nowhere left to turn but inward, Revelations of a Mind Unraveling is pure descent into the internal agonies of Lincoln Durham's tormented mind.



Trapper Schoepp
Trapper Schoepp, Tanner Schoepp, Etc.
-from Milwaukee, WI
-Trapper Schoepp is a young man who's befriended a strange and diverse cast of characters during his 24 years. That small army of rogues and rebels, drifters and dreamers, soldiers and schemers populate his songs, their tragedies and comedies, their lives and deaths recalled in his finely etched musical vignettes.

The Minnesota-born, Wisconsin-based tunesmith and teller of tales (both tall and true), returns with his second effort Rangers & Valentines (Xtra Mile Recordings). The record follows his critically acclaimed 2012 debut Run Engine, Run, with his band the Shades. That LP earned notices in Rolling Stone, American Songwriter and Paste, with the folks at Huffington Post calling him a "master storyteller" and PBS hailing his "story songs that explore and explode the conventions of rock and roll."

On Rangers & Valentines, Schoepp defies the limitations of the standard-issue Americana platter, hopping genres – you'll hear lots of brass, backing singers and B-3 -- as the songs build to delirious musical highs. His narratives, meanwhile, find subjects in the narrow margins of society, the strange twists (literal and metaphorical) in the weather, and the vagaries of a troubadour's transient life – with lyrics that flash a lacerating wit and humanist streak that's at the core of his craft.

Schoepp – who's already crisscrossed the country sharing stages with fellow travelers like The Wallflowers, The Jayhawks and The Old 97's – will be back on the road throughout 2016 in support of Ranger & Valentines, starting with a 3-week run throughout the UK and Europe supporting Jesse Malin.