Thursday December
1
2016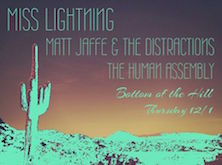 8:30PM

doors -- music at 9:00PM

•••

ALL AGES




$

12


Miss Lightning
www.facebook.com/weareMissLightning/


rock blues funk soul


Matt Jaffe & The Distractions
www.mattjaffemusic.com/


Rock 'n' Roll


The HA
~

The Human Assembly


www.facebook.com/TheHA.SF/


Beach Funk Americana
---

Miss Lightning
Cam - guitar/vocals/synth,
Dominique - vocals/keys,
Pat - bass, Rob - drums
-from San Francisco, CA
-Grit meets velvet, honey, silk, and soul in our vision of what the future holds for rock and roll.





Matt Jaffe & The Distractions
Matt Jaffe - Vocals, Guitar.
Paul Paldino - Bass.
Thomas Yopes - Drums.
-from San Francisco, CA
-Matt Jaffe & The Distractions is a rock 'n' roll band based out of San Francisco, CA. After Jerry Harrison, keyboardist of Talking Heads fame, discovered now-21-year-old Jaffe performing solo at a local open mic, the two worked together to produce his first set of studio recordings. Following this first taste of the music industry, Jaffe put together his own band of Paul Paldino on bass and Thomas Yopes on drums. Inspired by the pop, punk, and rockabilly mixtures of groups such as The Clash, X and Elvis Costello, the young group recorded their first EP of original material with producer Matthew King Kaufman (Jonathan Richman, Greg Kihn), Blast Off, released in April 2015. After a brief educational stint in Connecticut, Jaffe is back in San Francisco with the group, ready to take the world by storm with their unique brand of California rock.





The HA
Brooks Dierker, Thomas Patrick, Michael Dyer, Oliver Henrickson
-from San Francisco, CA
-The HA is a San Francisco based band that plays Beach Funk Americana; music that celebrates the human condition and the gathering of friends. Music to party to.

The HA is frontman Brooks Dierker on vocals, harmonica, keys and melodica; Thomas Patrick on guitar; Michael Dyer on drums; Oliver Henrickson on bass.

Since the summer of 2015, the band has hosted a number of 'Party With Purpose' events across CA to benefit local non-profits and organizations. In the spring of 2016, The HA was selected for the inaugural artist residency program hosted by Project Amplifi and Smiley's Schooner Saloon in Bolinas, CA. The residency focused on artist development and community leadership. In the fall of 2016, the band will release their first full length album, Bohemian Howl. In addition to performances at music venues across the greater part of CA and the Southwest, The HA has also played a number of large events, including historic Bay to Breakers, Off the Grid, and various other events across San Francisco and local festivals.

Formerly known as Hopi Astronaut, the band was formed back in 2012 by founding members Brooks Dierker, Michael Dyer, Thomas Patrick and former member Ansgar Lorenz.
Our Story:
Our friend's band from LA was looking for an opening act in SF. Our drummer, who had just taken his first lesson, convinced a few of his drinking buddies they could pull it off and The HA was formed.