Thursday
December 8
2016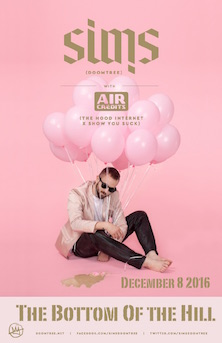 8:30PM

doors -- music at 9:00PM
•••
21 AND OVER
$
13
in advance

/ $15

at the door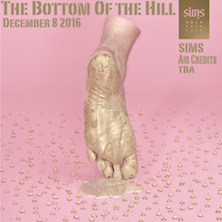 Sims
sims.bandcamp.com/


hip-hop/rap indie


Air Credits
www.facebook.com/aircredits/


hip-hop/rap indie


Wolf Langis & Oscar Goldman
soundcloud.com/wolflangis
www.oscargoldman.info/listenbuyfree-stuff.html


rap/hip-hop
---

Sims
Sims
-from Minneapolis, MN
-Life and loss and dance parties. Sex and love and fractal math. Sims wrote More Than Ever last winter in the wake of some personally trying times: death and sickness in his immediate circle of friends and family. And he decided that the only acceptable answer to big loss is big joy—urgent, defiant, unapologetic joy. The thirteen tracks on More Than Ever capture Sims coming to, and living out, that conclusion.

To create More Than Ever, Sims enlisted the unrelenting and adventurous production of Lazerbeak, Paper Tiger, and ICETEP. Sometimes take-no-prisoners, sometimes take-the-slow-road, the drums are crushing and the soundscapes are expansive. After many long days and nights sequestered in his South Minneapolis basement, Sims emerged with the most honest first-person account he's ever recorded--he wrestles with some demons, faces down his doubts, and allows us in on the dirty work of change and growth and revelation. But, true to form, he does it with swagger, wit, and bar-crushing style. Huge ideas, concisely delivered over epic bangers without ever feeling overwrought. On songs like "Brutal Dance" and "OneHundred" Sims crafts an earnest mission statement while the razor sharp wordplay, insight, and quick quips prevent him from ever taking himself too seriously. The result is a 45-minute rollercoaster through the highest highs, the lowest lows, and all of the love and hope between them.




Air Credits


-from Chicago, IL




-AIR CREDITS is music from the not too distant future, when the planet's water supply has all but ceased, the landscape turning to desert, the desert turning to wasteland. Radio stations worldwide have been transformed into climate controlled compounds, guarded heavily by their surrounding communities not only to maintain communique with the declining population, but to preserve music new and old— lest it expire with the planet.






Wolf Langis & Oscar Goldman
Wolf Langis & Oscar Goldman
-from San Francisco, CA
-"Wolf Langis is one half of the rap duo known as Bottled Water. For the about the past three years, the tumultuous tag team has been consistently performing both low-key and high-profile hip hop shows around the Bay Area. Wolf Langis has been behind the scenes putting together many of these hip hop shows, as well as booking shows of all kinds full-time at the space he manages called The Honey Hive Gallery. In between all of that, he somehow finds time to make music of his own, and write raps that don't totally suck"

"Oscar Goldman's music can best be described as Hip-Hop with a slash of poetry. Every word has meaning and a place in his rhymes. His lyrical stylings evoke vivid images personal to him yet anyone is able to relate. Oscar Goldman is a unique artist in style, sound, and subject matter which speaks volumes. 2016 Modesto Area Music Award winner "