Wednesday
December 14
2016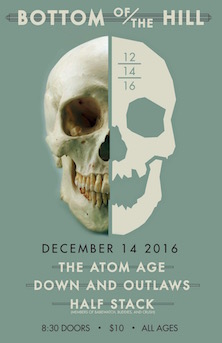 8:30PM

doors -- music at 9:00PM
•••
ALL AGES
$
10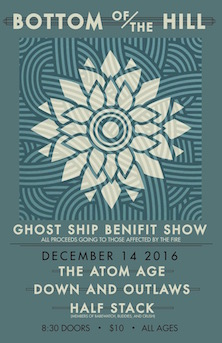 All the bands' proceeds going to those affected by the fire


The Atom Age
theatomage.bandcamp.com/


60's punk garage rock surf


Down And Outlaws
downandoutlaws.bandcamp.com/


rock


----

Decent Criminal

is off the bill
Half Stack


(members of Babewatch, Buddies, and Crush)




halfstack.bandcamp.com/releases


country rock psychedelic
---

The Atom Age
Ryan - Vox Gtr, Peter - Vox Gtr
Brendan - Sax, Fred - Organ
Kevin - Bass, Tim - Drums
-from Oakland, CA


-The Atom Age find their inspiration from the dust covered collections of unhinged 60's punk and R&B, whose crazed energy was once misconceived as a better fit for your trashcan than for your turntable. While taking many of their cues from these primitive pilgrims of punk, The Atom Age still strive to lay down their own modernized take on the sound. The band's new record, Hot Shame, was co-produced by Blag Dahlia of the Dwarves, and channels a wide range of influences from bands like The Sonics, Link Wray and the Murder City Devils.






Down And Outlaws
Peter Danzig, Kyle Luck, Chris Danzig, Jon Carr
-from San Francisco, CA
-To Down and Outlaws, it's obvious and unavoidable. But apparently an all-for-one philosophy of songwriting and identity is an anomaly in the modern era of music.

Recorded in a marathon one-week session at Studio 606, "Above Snakes" finds San Francisco's Down and Outlaws fine-tuning their place musically and striving to channel the restless, pissed off spirits of rock and roll history.

As Above Snakes -- an old west term meaning "still alive" -- suggests, the band believes in music that's fresh, yet pleasantly unpolished; brash, but wary; accessible, but never cheap.

In "I Don't Care," Peter Danzig proclaims: "I'm a sickness/ I'm a cheat/ I don't care if I feel a thing." And the whole band joins in to scream the title line with an urgency that proves just the opposite.

The band's show is the source and primary outlet of that urgency. A friend recently commented, "I've been trying to record your set for months, but you're too fuckin' loud!" This music is based on freedom and escape from everything else that drags you down, if only for 40 minutes.




Half Stack


(members of Babewatch, Buddies, and Crush)




-from Oakland, CA




-Half Stack is Oakland's number one pancake banned. Formed by members of Babewatch, Buddies, and Crush, the stack is a country tinged rock project that explores classic 'Cosmic American Music' and contemporary psych. Their debut s/t EP was recorded in Los Angeles in July and the bands been hard at work in the Bay Area and the West Coast since. A full length release is in the pipeline and the band is planning a trip to outer space. Grab some syrup!