Friday
December 16
2016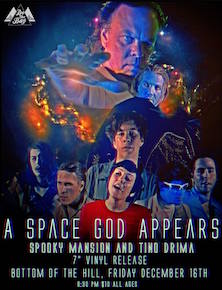 8:30PM

doors -- music at 9:00PM

••• ALL AGES




$10





--- Some of the bands' proceeds going to those affected by the fire




Do The Bay presents...


Spooky Mansion
www.facebook.com/spookymoosemusic


Surf Soul Rock n Rock


Tino Drima
www.facebook.com/tinodrima


psyche doo-wop hell croon


Bear Call
www.facebook.com/Bear-Call-630573830386898/


Dirty boy do-wop
---

Spooky Mansion
Grayson Converse - Vocals, guitar, Marty Reising - Bass
Carlos McCone - Guitar, Rob Mills - Drums
-from San Francisco, CA
-Spooky Mansion rocks. They kick your ass and then act pretty relaxed about it. They will hang out with you, and are down to drink your bevies. Think Punk'd meets Pimp My Ride, etc.





Tino Drima
Gregory DiMartino, Ryann Gonsalves, Rob Mills,
Mackenzie Bunch, Grayson Converse, Scott Huerta
-from San Francisco, CA


-Tino Drima is a cauldron of then, now, and what will be. Crooning hell harmonies over charmed, ripping beats Tino channels music that feels like it has always existed. Think the inter-dimensional 50s radio in Old Man Cooper's house that portals Classics from a more excellent world into his living room and everybody wants to hang out and listen and maybe stay the night even though it's p weird there.






Bear Call
Skyler Warren, Nikk Moreno, Eric William Mohammed
-from San Francisco, CA
-A skewed sense of romanticism, love for cheap alcohol (though only because it is all that is affordable) and a fear of wasting youth, Skyler Warren started Bear Call alone in his bedroom in late 2011. Three years and a number of failed attempts and broken hearts later, something resembling a real band was formed with the help of Nikk Moreno and Eric "Moose knucks" Mohammed. Together, these three lads are attempting to go the distance and capture the lo-fi sound that no one in San Francisco (except for everyone in the mid 2000s) has captured before before. Fuzzy, reverb drenched guitars? Check. Driving, heavy bass? Check. Loud, hard hitting drums? Check. Lyrics about love, frustration, and pissing yourself in a one night stands bed? Check. Drawing influence from San Francisco garage rock heroes like Thee Oh Sees and Ty Segall, Bear Call is searching for a way to stay 20-something forever while evading all responsibility and forever chasing an excuse to wake up hungover. You are all welcome along for the ride, especially you, Mom.