Friday
December 30
2016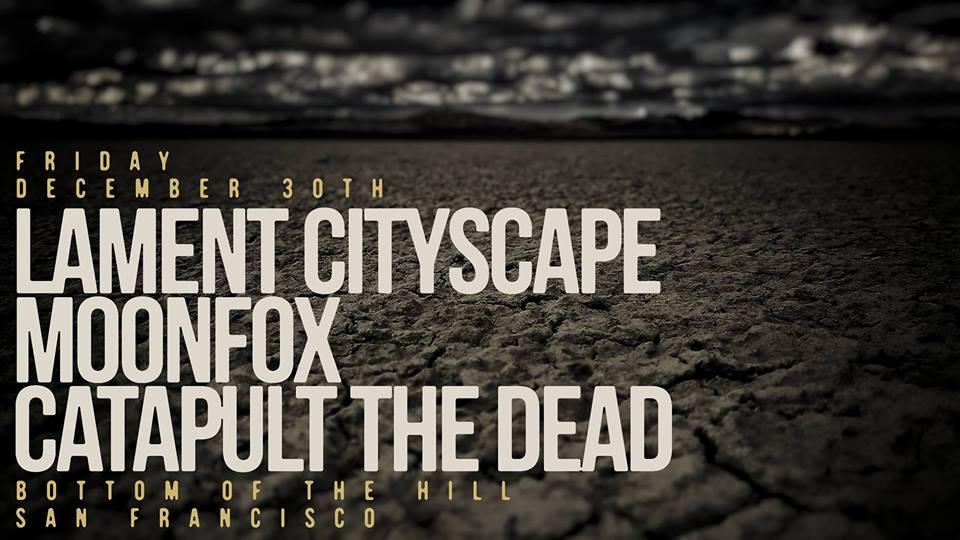 8:30PM

doors -- music at 9:00PM

••• 21 AND OVER




$10


Lament Cityscape
lamentcityscape.bandcamp.com/


industrial larva rock nowave noise rock sludge


Moonfox
www.facebook.com/MoonFoxBand/


doom/grunge/goth/stoner/psych


Catapult The Dead
catapultthedead.bandcamp.com/


doom metal
---

Lament Cityscape
Mike McClatchey | Sean McCullough | Dave Small
-from Oakland, CA


-Massive in sound and cinematic effect, the LAMENT CITYSCAPE duo eschews easy classification with a broad palette of dark, noisy industrial flavor that coats the raw core of their loud and heavy sound. Slightly out of focus and grainy like a phantom in the peripheral vision, the group's debut album, The Torn, is a piece of music that resonates with themes of duality, confusion, and contradiction as it crawls across fifty-two minutes of bleak soundscapes and thunderous percussion. The feel and atmosphere that LAMENT CITYSCAPE captures on the album is reminiscent of the brooding and nebulous angst of early Godflesh, Ministry, and Swans. Each half of the group, Mike McClatchey and Sean McCullough, brings quite a different set of influences to the writing process and this clash of perspectives is evident in the music, resulting in an honest collaboration of immersive material that is urgent and compelling.






Moonfox
Danika Ingraham - Vocals, Tommy Anderson - Bass
Dan Schoknecht - Guitar, Sean Byas - Drums
-from San Francisco, CA


-When Danika Ingraham dreamwalks through the astral plane, MoonFox is the name the lost souls and Satanic majesties there know her by. They gift her with visions, and compel her to bring them into the waking world through the ritual magick of song. Depending on her mood, and the musicians she recruits to aid her, the sound might be dense and heavy, sparse and atmospheric, adventurously complicated or comfortingly simple; the only constants are Ingraham's introspective lyrics and commanding stage presence. If Patti Smith joined The Birthday Party to work on some Queens of the Stone Age covers, MoonFox is the band next door that would steal all their gear.






Catapult The Dead
BEN H. - VOCALS
EMAD DAJANI - GUITARS
GARRICK O'CONNOR - ORGAN/PIANO/GUITAR
THOMAS LILLISTON - GUITAR
PATRICK SPAIN - DRUMS
DAN BROWNSON - BASS
-from the sludgy tar pits of the East Bay


-A bleak journey into the deep realms of darkness hidden in the human psyche. Catapult the Dead plays the soundtrack to your own self destruction. Succumb to the beautiful devastation...