Saturday
December 31
2016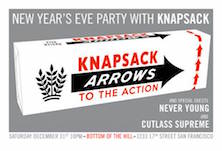 9:00PM

doors -- music at 10:00PM
•••
ALL AGES
$
20
in advance

/ $25

at the door

Knapsack
www.thebandknapsack.com/


Emo, Indie rock, Punk rock


Never Young
neveryoung.bandcamp.com/


punk goth


Cutlass Supreme
cutlasssupreme-band.bandcamp.com/


indie rock
---

Knapsack
Blair Shehan, Colby Mancasola, Sergie Loobkoff, and Edward Breckenridge
-from Davis, CA
-Since knapsack's inception in 1994 they have worked hard to solidify their place in the music scene. During their time together they have helped establish a new genre of music and influenced a group of younger bands that have recently gained attention. Nevertheless, even while being tagged "Emo Core" and being a part of the post-hardcore scene from the beginning, they have always been outside of the boundaries of the Emo sound and have many varied influences to their music. "I don't like to call what we do 'emo core'" states singer/guitarists/songwriter Blair Shehan, "I think we make dark, hard-rocking music with a hook and varied dynamics.

Good or bad songwriting is good or bad songwriting silly category names aside". knapsack has always placed quality songwriting above everything else." Don't worry though, there's still enough of the gut wrenching vocals and driving hooks to convince even the most jaded listener to accept what their many fans already know that this is one of the most exhilarating rock bands out there today.





Never Young
Chris, Nik, Kevin, Jeff
Hometown
-from Bay Area, CA
-Never Young is a noise rock band from the Bay Area in California. Blending raw punk sounds and 90's guitar music with a synthetic digital aesthetic, jarring militant anthems meet angular pop songwriting. Never Young's futurist sound is fleshed out and fully realized on their new self-titled EP; the sound of a pastel yellow iPhone 5c crashing through the window of your psyche.

Principle songwriters Christopher Adams (vocals/guitar) and Nikolas Soelter (vocals/guitar) are joined live by Samuelito Cruz (drums) and Niko Escudero (bass). This EP follows their 2014 release, Master Copy, also released on Father/Daughter Records. Recorded with Jack Shirley at The Atomic Garden, these four songs mark the beginning of an exciting band.



Cutlass Supreme
Pete Johnson (vocals & guitar), Sasha Loobkoff (guitar)
Joe Bansuelo (bass), John Mockus (drums)
-from Oakland, Santa Cruz, Pacifica & Los Angeles, CA


-These four young bucks have blended their love of vinyl 45s, faded postcards, and big American cars to form Cutlass Supreme, an outfit loud enough to rock, but not afraid to handle gently. Cutlass Supreme provides all the fuel economy, room, comfort, and safety features one demands of a band. But it does so without compromising on performance, spirit, and style. Yes, Cutlass Supreme offers severals CD EPs, 2 produced by Andy Ernst (Green Day, Rancid, AFI), the other by Alex Newport (At The Drive In, City and Colour, Bloc Party, Death Cab for Cutie); and boasting the performance of a 160-horsepower V6 engine, the handling of a fully independent suspension and power rack-and-pinion steering, plus the stopping power of a 4-wheel disc anti-lock braking system. And yes, these features make this East Bay, California outfit an enjoyable listen, and that means better crash avoidance and safer driving.