Sunday January 29 2017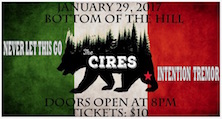 8:00PM

doors -- music at 8:30PM

••• ALL AGES




$

10


Never Let This Go


from Arizona


www.neverletthisgo.com/epk


Rock/Alternative


The Cires
www.facebook.com/thecires


Alternative


Intention Tremor
www.facebook.com/intentiontremor/


Rock




---

Never Let This Go
David Kleinebreil - Vocals/Guitar
Vic Chan - Drums
Zach Rabago - Bass
-from Tempe, AZ
-Never Let This Go is a rock band out of Tempe, Arizona. Started in 2012, the band has played countless shows in their home state and across the country. The group has shared the stage with various artists such as Never Shout Never, Set It Off and letlive.

The band's second release, "Believe" gained momentum as the first single's music video for "Right Now" premiered on Stan Lee's World of Heroes. he video's superhuman plot gained it additional exposure on press outlets such as Geekscape.net and Examiner.com.

The band's upcoming release "Sleepless Nights" was recorded during the summer of 2016 in Atlanta, GA with Zack Odom and Kenneth Mount (Cartel/Mayday Parade/All Time Low) at ZK Productions. The followup to 2015's "Believe," the new EP touches on subject involving love, loss, and perseverance. Following vocalist, David Kleinebriel's mother's multiple bouts with cancer, Kleinebreil describes this as his most personable batch of songs yet.





The Cires
Isaac Soto, Edwin Soto, Shannon Soto
-from Hayward, CA


-"It all started when drummer, Shannon Soto broke off some tree branches, carved his first drum sticks and learned to play the drums. Joining after school jam sessions with his other two brothers Edwin and Isaac Soto, the Hayward based trio has been playing shows ever since. The Cires have a 'cult like' fan base all along the bay area and even overseas. Receiving positive feedback from fans as far as the UK, Canada, and Mexico. They hope to enter the studio early 2017 and record some new material they've been working on"






Intention Tremor
Derek, Gabe and Daniel
-from San Francisco, CA
-Intentiontremor is a San Francisco based alt-heavy rock band. Members include Gabe Osorio on drums, Daniel Hasegan on bass, and Derek Haerle on guitar and vocals.
Gabe and Derek have been playing together for a few years with the goal of creating original music inspired by bands they enjoy. Daniel shares their vision and completed the line up in 2015.
The resulting material has grown out of influences from 80's alternative to metal to electronica. They plan to continue writing while sharing the project through live performances and recording.