Friday February 10 2017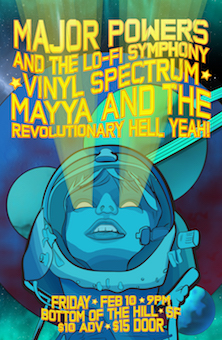 8:30PM

doors -- music at 9:30PM

••• ALL AGES




$

10

in advance

/ $15

at the door
Major Powers & The Lo-Fi Symphony
lofisymphony.com/


Adventure Rock


Vinyl Spectrum
soundcloud.com/vinylspectrum


blues rock indie rock


Mayya And The Revolutionary Hell Yeah!
mayya.bandcamp.com/


Indie
---

Major Powers & The Lo-Fi Symphony
Dylan Gautschi, Kevin Gautschi, Nick Powers
-from Richmond, CA
-Imagine Mary Poppins writing songs for Weezer during a cliff diving competition between Freddie Mercury and Tom Waits while Danny Elfman makes out with Indiana Jones during a game of Dungeons & Dragons. Or don't imagine that and listen for yourself.
"On The Rise," San Francisco Bay Guardian
"Best Emerging Artist," SF Deli Mag
"The Best Bands," Pop Underground




Vinyl Spectrum
Lance Harrington, Chris Guyton
Frank Fusco, Dario Slavazza
-from San Francisco, CA
-fter moving from Philadelphia to the Bay Area in 2012, Frankie Fusco created a unique blend of rock, funk and jazz to become what is now Vinyl Spectrum. Originating in San Francisco, Vinyl Spectrum, led by Frank Fusco on guitar and vocals, bassist Chris Guyton, saxophonist Dario Slavazza and drummer Lance Harrington, is a band that has grown to be nationally recognized and featured on not only top networks such as NBC and Esquire, but also a number of commercials and feature films. Most recently their fun and buoyant track P.S. 118 was placed through Flavorlab Records on this Juicy Couture, featuring Behati Prinsloo. The band has taken their diverse sound and shared it with the country, traveling and touring throughout the West Coast and making numerous festival appearances back East. The apparent influence of Avant Garde styles on Vinyl Spectrum makes for an out of the box and genre bending sound that can capture the ear of any audience.





Mayya And The Revolutionary Hell Yeah!
-Spencer Owings on lead guitar, Lucas Fendert on drums, Evan Anderson on bass, n Mayya on lead vox/rhythm guitar
-from San Francisco, CA


-Mayya moved with her family from St.Petersburg, Russia to San Francisco around the age of 2, and has been livin in the same apartment in the Tenderloin since. Growing up in this environment has shaped her world view and influenced her songwriting. But she is not always cooped up in the TL... Goin' on adventures with friends into nature n whatnot, has also been of help in many ways.. such as in the formation of "Lands End" (last song off debut album Tea & Chocolate), written from the perspective of being a homeless person who lives in Lands End. Though there are many things one can be saddened by, Mayya generally maintains a positive outlook on life and tries to be as understanding of others' situations as possible.









\