Saturday
February 11
2017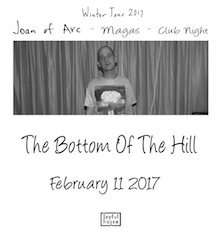 8:30PM

doors -- music at 9:00PM

•••

21 AND OVER




$

12


Joan Of Arc
www.facebook.com/joanfrc/


Indie rock, Emo, Math rock


Magas
magas.bandcamp.com/


electronic rock experimental no-wave techno punk


Club Night


(members of Meat Market, Twin Steps, Sad Bitch, and Our Brother The Native)


soundcloud.com/clubnightband


...
---

Joan Of Arc
Tim Kinsella, Bobby Burg, Theo Katsaounis, Melina Ausikaitis, Jeremy Boyle
-from Chicago, IL
-Joan of Arc began in 1996 with the clear goal of "creating music for no audience." And by this we meant that we were constant and voracious consumers and keen observers of many scenes contemporary at the time: hardcore, punk, post-punk, post-rock, riot girl, emo, math rock, no wave, noise, experimental, drone, free jazz, kraut rock, dub, glitch, drum and bass, psych, folk, and twee. All of these scenes had their own codes of membership and conformity. We set out knowing that our failure to be embraced by any prefab audience would be the proof of the singularity of our expression.


Elements of all these genres were mangled together on our first record. And though we have changed forms and approaches many times since then, collage, juxtaposition, and fusion have remained our consistent guiding principles in structure, production, and style. And recalling that initial mission statement we know we are a success: we have travelled the world many times over and still manage to frustrate expectations. And still no one anywhere would dare claim to like us to appear cool.


Most bands break up when they realize that being a band isn't likely to make them rich and the industry expectations are most often demeaning and exhausting. Of course the standard practices of the music business are meant to squelch ongoing collaborative creativity in favor of quick profit. That's simple business: maximize returns on minimal efforts. But we are not a business first and foremost. Impracticality and counter-intuitiveness remain as vital to our ongoing survival as practicality and intuition.


As we have grown as people and as a band we have necessarily shifted from squeezing our real lives in around band activity to integrating the band into our lives. This has meant adopting a more open collective style membership in favor of the common clear cut mentality of standard gang membership. And doing so has deepened the trust between us, the subtlety and nuance of our expression and the expansiveness of our collective imagination. We remain dedicated to the struggle for utopia by design and in practice.




Magas
James Marlon Magas
-from Chicago. IL
James Marlon Magas, is a Chicago-based composer and musician, primarily known for producing raw electronic music.
Magas is also known for his works with avant rock bands Couch and Lake Of Dracula, among others, as well as co-founding the Bulb Records label. In 2014, he helped score Asia Argento's Incompresa (Misunderstood), which premiered at Festival de Cannes.




Club Night
(members of Meat Market, Twin Steps, Sad Bitch, and Our Brother The Native)


-from Oakland, CA


-

Oakland based project featuring members of Meat Market, Twin Steps, Sad Bitch, and Our Brother The Native.




-It's been an extremely trying couple of months here in the Bay, between the never-ending fallout from the election results and the continuing tragedy of the Ghost Ship Fire, which has spurred the closing of artist spaces around the country. However, in the wake of all this hardship, countless individuals have risen to the occasion, banding together to confront city officials and demand support for low-income artist communities. Spaces like San Francisco's Gray Area Foundation have helped to create and manage the largest fire relief fund, and organizers have grouped together to form the Oakland Warehouse Commission, hoping to bridge the gap between the city and warehouse residents.





Oakland's newly-formed Club Night are joining the effort to contribute to the countless residents displaced after the tragedy, and have put together a special release for the cause. The five-piece includes veterans of the Oakland scene, featuring members from groups like Meat Market and Twin Steps, and play their own blend of cathartic indie.





Club Night are teaming up with Oakland's Poppy Press to screenprint posters for their February 11 2017 performance with Joan of Arc. The posters will come with a digital download of a split release between the Oakland band and Joan of Arc's Bobby Burg, who records under the moniker Love of Everything, and all proceeds will be donated to the Oakland Warehouse Commission. The Bay Bridged is happy to be previewing the split, which you can check out below. The snotty, effected vocals are exceedingly catchy, and the song packs plenty of surprises.