Tuesday February 14 2017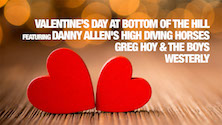 8:00PM

doors -- music at 8:30PM

••• 21 AND OVER




$

8




A Valentine's Day for Lovers & Others...


Danny Allen's High Diving Horses
www.dannyallenmusic.com/


alternative country jazz pop rock roots


Greg Hoy & The Boys
www.facebook.com/greghoyandtheboys.com/


Rock / Brit Pop / Pop Punk


Westerly
www.westerlytheband.com/


americana folk roots rock
---

Danny Allen's High Diving Horses
Danny Allen & Friends
-from Oakland, CA
-Hello World. Danny Allen here. Well, I'm a child at heart with a mule's brain, I fight with the sea and I'm bad with names.
Do you like music?
I sure do! I like music that rocks. I like music that doesn't rock. I like honest music, I Iike music that's chock full of lies. I like making music best of all.
What's new?
Video! Santa (Laura Jean) gave me a video of my new song, Take It Hide It, for Christmas. She had been following me around with that dang camera since Thanksgiving. I figured I was having a good hair month and she wanted to document it. Wrong. I was blown away. I love it so much! She did an amazing job. Check it out. When you see her let her know.



Greg Hoy & The Boys
Common aliases include Greg Hoy & The Boys, The Royal Panics (SF), Greg Hoy & The Enablers (Pgh), Hoy, Twice As Bright, The Slurry Bombers (Colorado), Milk Parade, and Century Club (NYC).
-from San Francisco, CA
-Time Out New York says 'Hoy's clear-eyed rock is fueled by straight-up melodicism.'

The Deli Magazine says 'It's nice to be reminded that AC/DC and Black Flag essentially both started with dirtbags who like loud amps...fits nicely into the company of artists from the previous decade such as Urge Overkill and Guided by Voices who fashioned Arena rock for VFW Halls.'
International Cork says 'Muscular with brains, brainy with muscle, Greg Hoy writes the kind of left-of-the-dial rock that the repeat button on your cd player was designed for.'

The Big Takeover says 'Hoy has to be the best power-pop record I've ever heard recorded entirely by one person. Is he for real? You keep glancing at the sleeve notes, thinking the man must be joshing, taking credit for others' playing, because Hoy betrays no veneer or vestige of such a solitary, necessarily piece-meal installments project. What it sounds like is a rockin' quartet, with Hoy's full-throated singing leading the charge. This is power-pop with big guitar crunch, some real back-beat presence, and encircling guitars, bold melodies and no hint of boyish niceties or polite mannerism....Sign me up for the next gig, and see you in the front row.' (Jack Rabid)





Westerly
Sterling Spence - Guitar & Vocals
Brandon Seinturier - Percussion
Doug Stowers - Bass
Scott Wilson - Lead Guitar
-from Benicia, CA


-Reminiscent of the hard luck storytelling of Tom Waits and the tarnished spiritual imagery of Leonard Cohen, Westerly writes American folk rock for the new era. Mixing indie rock, gospel, americana, blues, jazz, and folk, the band consists of Bay Area natives. Westerly was founded by multi-instrumentalist Sterling Spence who sings and plays guitar, bass, and mandolin. Spence starting songwriting and performing at 10 years-old and has since toured the US with his first band the Coyote Bandits and performed throughout Italy with the band Dirty Cello. After finishing college in Riverside, CA, he moved back to the San Francisco Bay and formed Westerly with several members from the Coyote Bandits and new friends. They have released two albums, sold out Bay Area venues, and received airplay on KPFA and KALX.










\