Wednesday
February 15
2017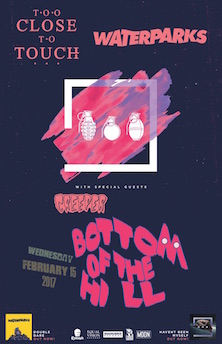 6:30PM

doors -- music at 7:30PM

•••

ALL AGES




$

12

in advance

/ $15

at the door
Waterparks
www.waterparksband.com/


Rock / Alternative




----CO-HEADLINING----


Too Close To Touch
tooclosetotouch.com/


Rock / Alternative


Creeper
creepercult.com/


pop punk rock
---

Waterparks
Awsten Knight ///Geoff Wigington ///Otto Wood ///
-from Houston, TX
-Double Dare was recorded in Los Angeles, CA with Benji Madden (Good Charlotte, 5 Seconds of Summer) and Courtney Ballard (5 Seconds of Summer, All Time Low). Double Dare is the follow-up to three EPs: Cluster (2016), Black Light (2014) and Airplane Conversations (2012).

Of the forthcoming full-length, frontman Awsten Knight shares, "It's just more. Everything about it is expanded and bigger. We wanted to push the boundaries to show people that you can be more than one thing. This isn't just a "pop-punk" band and I think when people hear the rest of the album, it'll be pretty apparent. There are songs that have elements of jazz, hip-hip, pop, indie, electronic, punk, etc. As far as the lyrics go, they're more personal than they've been on any other Waterparks release. This album has been in the works since August or September of 2015, and in that time I've felt and dealt with a lot of different things. I was probably more open than I should be with some stuff but it's fine. Honest songs are always best. It's also got me at my happiest, so that's a thing too." The band has also toured as direct support on Good Charlotte's US and UK reunion shows, on the entirety of the 2016 Vans Warped Tour, performed at SXSW, So What?! and Slam Dunk festivals and has just wrapped up their second UK tour, which included performances at the prestigious Reading and Leeds Fest.





Too Close To Touch
Keaton Pierce, Kenneth Downey,
Mason Marble, Thomas Kidd, Travis Moore
-from Lexington, KY
-On the 2015 album Nerve Endings, Too Close To Touch made their debut with a deeply melodic breed of post-hardcore built on strikingly soulful vocals. Now with their second full-length Haven't Been Myself, the Lexington, Kentucky-based band expands that sound with fiercer energy, harder-hitting arrangements, and even more potently charged material. Recently nominated for Best Underground Band at the Alternative Press Music Awards, Too Close To Touch again teamed up with producer Erik Ron (Issues, Set It Off) in the making of Haven't Been Myself. Throughout the album, the band builds a heavy tension with their urgent rhythms and impassioned guitar work, then obliterates that tension with each explosive chorus. Delivering a powerful live show that heightens their unbridled intensity and centers on close connection with the crowd. And both onstage and on record, the band strives to provide the same catharsis that they've found through channeling their pain into song. "When people go through extremely intense experiences they look to music to help them escape, so it's always been a mission of ours to put out the kind of music that might help in that way," says Pierce. "This album was a pretty tough one to write, but we all gave it everything we have and didn't hold back, and I wouldn't have it any other way."





Creeper
Dan Bratton - Drums.
Oliver Burdett - Guitar.
Ian Miles - Guitar.
Will Gould - Vocals.
Sean Scott - Bass.
Hannah Greenwood - Keys.
-from Southampton, UK


-My Chemical Romance, a little bit of The Offspring, the theatrics of Meatloaf, a dash of The Darkness.... It's hard to categorize this group but they're awesome and that's all that should matter.