Tuesday
February 28
2017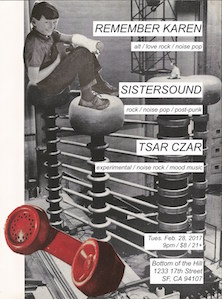 8:30PM

doors -- music at 9:00PM

•••

21 AND OVER




$

8


Remember Karen


formerly known as

Karen


www.facebook.com/rememberkarenband/


alternative punk rock pop


Sistersound
www.facebook.com/Sistersound-462357560556093/


noise pop rock post-punk


Tsar Czar
tsarczar.bandcamp.com/releases


atmospheric rock experimental mood music improvisational post-rock
---

Remember Karen
Erica Ann Watson - Bass, Vocals
Jessica Groopman - Drums
Logan Kelley - Guitar
Nick Thacker - Guitar, Vocals
-fromOakland, CA
-A rock band from Oakland, CA with a tangy, tortured, titillating twist. Remember Karen is a new rock group from Oakland that is surely more than the sum of its parts. For posterity, parts are listed below.

Nick Thacker, words and guitar, is a Cancer and an Anarchist, he thinks, and holds firm on at least two beliefs: (1) most people should be more upset, and (2) Morrissey's 1991 LP 'Kill Uncle' is criminally underrated. He doesn't mind if you forget him.

Erica Ann Watson, bass player and band life-coach, in her own words: "I am a Scorpio from Athens, G-A and I like to find the essence from within."

Logan Kelley, guitar, cut his teeth playing surf grunge and battling clones and walking bones in LA. He hopes to one day use his guitar as a love-shooting peace wand in the impending encounter with extraterrestrials.

Jessica Groopman, resident drummer, provides Karen's gooey grooves, sensual syncopation, yoga pants, emojis, and occasional robotic insights.



Sistersound
Vocals, Guitar: Eve
Drums: Ronnie
Bass: Malcolm
-from Richmond, VA/San Francisco, CA
-Sistersound was born in 1992, when singer-songwriter Eve began writing music on his first guitar, a Stratocaster knock-off that he bought from a college friend for $50, and recording on a 4-track cassette recorder. Over the decades, the band has featured a slew of talented accompanying musicians on bass guitar and drums, including (in order of appearance): David Garrett, Michael Lujan, Jeff McElroy, Robbie, Pete Grothey, Ian Kruske, Chris Gallo, Sean Mou-Keefe, Attiss Ngo, Ronnie Matatquin, and Malcolm Posey. Sistersound, in its various incarnations, has subsequently recorded several albums-worth of material, which has remained in relative obscurity, only known to fellow musician, friends, and fans who have given crucial support to Eve and members of Sistersound for over 20 years.

Eve continues to write and record music, with intentions to master and release the recordings; evidence of the craft and hard work that's been poured lovingly into the project by all the members of Sistersound.





Tsar Czar
Michelina M. - Scott T. - Daved P. - David B.
-from CA
-Using physical space as an instrument, Tsar Czar have deployed the simplicity of spontaneous production to capture effect and mood, creating new tones and textures from the simple arrangement of guitar, bass, drums and keyboards. Tsar Czar redefined their inspiration and torched past songwriting preconceptions, freeing dynamics and arrangement, creating challenging soundscapes by playing to the situation and physical space within the moment. Focusing on playing unconventional locations both aurally and visually. There's sudden bombast and spontaneity carving features from the line up, spawning sprawling pieces that develop complexity as the musicians dig further into the core elements of the spill, feeling and moment. Abrupt bursts can be an entire passage. We must strive to challenge all who experience both in the aural and visual sense no matter the venue.

Never surrender. Everything counts.








\