Monday
March 6
2017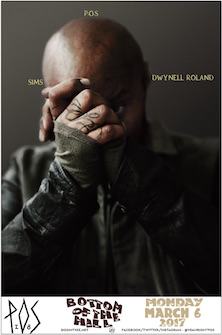 8:00PM

doors -- music at 9:00PM

•••

ALL AGES




$

15

in advance

/ $20

at the door
P.O.S
www.doomtree.net/pos/


indie hip hop


Sims
sims.bandcamp.com/


hip-hop/rap indie


Dwynell Roland
dwynellroland.bandcamp.com/


Rap
---

P.O.S
Stefon Alexander
-from Minneapolis, MN


-Doomtree co-founder, punk philosopher and lyrical bomb-thrower Stefon Alexander, aka P.O.S, makes tight, declamatory music that builds on the Minneapolis-bred rapper and producer's penchant for grinding beats and radical lyrics. Known for welding hip-hop with guitar squalls, screamed vocals, and futuristic beats fit for a Berlin nightclub, P.O.S steps even further into genre-blurring territory with Chill, dummy, his first official release with Doomtree Records since his 2002 debut Ipecac Neat. The album reflects on the past three years since a near-fatal kidney transplant sidelined him from making music and deals with the the difficulties of trying to maintain peace of mind and navigate through a confusing world which is becoming increasingly more alienating. P.O.S' production fingerprints are all over this one as he maneuvers through a wide range of sprawling beats contributed by himself, usual suspects Lazerbeak and Ryan Olson, and newcomers Cory Grindberg and Makr. Several friends touch down along the way to offer up biting commentary and varying points of view (Allan Kingdom, Astronautalis, Kathleen Hanna, Justin Vernon, Open Mike Eagle, Busdriver, and Lady Midnight to name a few), but the album never suffers from an oversaturation of scattered voices, instead using everyone's individual ethos and strengths to build a unifying call to arms. The result is P.O.S' most bold, honest, and daring work to date, so Chill, dummy.






Sims
Sims
-from Minneapolis, MN
-Life and loss and dance parties. Sex and love and fractal math. Sims wrote More Than Ever last winter in the wake of some personally trying times: death and sickness in his immediate circle of friends and family. And he decided that the only acceptable answer to big loss is big joy—urgent, defiant, unapologetic joy. The thirteen tracks on More Than Ever capture Sims coming to, and living out, that conclusion.

To create More Than Ever, Sims enlisted the unrelenting and adventurous production of Lazerbeak, Paper Tiger, and ICETEP. Sometimes take-no-prisoners, sometimes take-the-slow-road, the drums are crushing and the soundscapes are expansive. After many long days and nights sequestered in his South Minneapolis basement, Sims emerged with the most honest first-person account he's ever recorded--he wrestles with some demons, faces down his doubts, and allows us in on the dirty work of change and growth and revelation. But, true to form, he does it with swagger, wit, and bar-crushing style. Huge ideas, concisely delivered over epic bangers without ever feeling overwrought. On songs like "Brutal Dance" and "OneHundred" Sims crafts an earnest mission statement while the razor sharp wordplay, insight, and quick quips prevent him from ever taking himself too seriously. The result is a 45-minute rollercoaster through the highest highs, the lowest lows, and all of the love and hope between them.




Dwynell Roland
Dwynell Roland
-Minneapolis,Minnesota
-Dwynell was born and raised in North Minneapolis, and has been rapping since the age of 13. During that time when he first started writing, he was part of a collective called TCB (Twin City Boyz). His time with the TCB was spent largely perfecting his craft of freestyling, and honing his knack for writing songs with a stylistic flair similar to T3 of Slum Village or Schoolboy Q, perfecting his style while maintaining a writing style similar to Joe Budden. This is mostly shown when he has dropped various freeverses via his YouTube page, showing his effervescence over such beats as "Stay Schemin'" and "Shine Blockas".
Dwynell's experience doing recorded material was on his first mixtape, Upside, which has shown the strides he's made to perfect his songwriting craft, all the while making sure his style was at the forefront, with almost a drawl and depth to his voice. Dwynell released his debut EP, "Make Due" in October of 2012, and then started subsequent work on writing material for his album, called "92 and Roland", which continues to show vast improvement from his days in his teens, and freely talking about topics of partying and reflection, delivering feel-good jams that leave a listener with no choice but to nod and enjoy the various personas that Dwynell possesses.
With the release of his "Factors" EP in August 2014, Dwynell started to explore more serious subject matters, such as on the track "She" about the quest for love gone awry, and that led him to new territory, such as garnering an opening spot on Prof Outdoors in 2016. Shortly after his performance, he released a new project called "The Popular Nobody," a project that allowed Dwynell to crank the volume up to 11 and show why he is one of the standouts of the new crop of rappers hailing from Minneapolis.