Wednesday
March 8
2017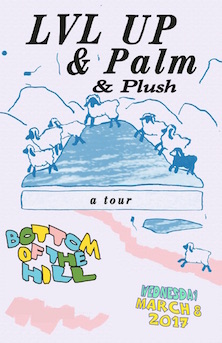 8:30PM

doors -- music at 9:00PM

•••

ALL AGES




$

12

in advance

/ $14

at the door
LVL UP
lvlup.bandcamp.com/


lo-fi


Palm
palmnewyork.bandcamp.com/


rock


Plush
plushsf.bandcamp.com/


alternative rock
---

LVL UP
Mike, Dave, Greg, Nick
-from New York


--Although self-categorized as "slacker rock," Brooklyn's LVL UP are quite an ambitious band. In only a few short years, they have released two critically acclaimed LPs, as well as a number of singles and splits with other indie darlings such as Porches, Ovlov and Radiator Hospital. Three Songs, the band's new EP that will be their first on Run For Cover Records, is a quick but fulfilling demonstration of LVL UP's ability to write incredibly understated indie-pop classics. In typical fashion, a different member of the band takes the lead on each of the EP's songs. Opener "The Closing Door" is a mid tempo headbanger with drowsy leads soar- ing over the constant roar of fuzzed-out guitar and bass, followed by the quick & poppy sing-a-long "Blur," which offers the record's catchiest moments. "Proven Water Rites" ends the EP at it's most melancholy, slowly building momentum from a melodic, steady rhythm into an intense and explosive end. With a full US tour booked around the release of Three Songs, LVL UP's unique style of not-so-slacker rock won't be under anyone's radar for long






Palm
Kasra, Hugo, Gerry, Eve
-from New York, NY
-While Palm, a four-piece from upstate New York, have made their home in the same Hudson scene as experimental art rockers Buke and Gase, Palm's story started when guitarists/vocalists Kasra Kurt and Eve Alpert developed a musical kinship while attending the same high school. The pair decided to continue their education at Bard College and quickly founded Palm with drummer Hugo Stanley. Their earliest material was entirely instrumental and concentrated on the interplay between Kasra and Eve's thick, mechanical guitar parts against Hugo's sparse, loose drum phrases. Not long after that, the band added Gerasimos Livitsanos on bass and has refined its sound over the past few years with a focus on detail, density, and heaviness. With a palette informed by punk, metal, and noise as well as jazz and bossa nova, they utilize traditional rock instruments to create playful experiments that, using unpredictable time signatures, move up and down, back and forth, and all over the map.

'Trading Basics', the band's full-length debut, released on Exploding In Sound and Inflated Records, challenges the listener's expectations with moments of dissonance that are reigned in and precise. The pretty moments are often where the chaos is. Amid these constant and rapid changes, the band sneaks in an unrelenting, trance-inducing repetition. Recorded and mixed by Eli Crews (Deerhoof, tUnE-yArDs) at Figure 8 Studios in Brooklyn, the album is a confident statement that this young band has carefully crafted a unique sonic vocabulary and methodology during their short time together. Being somewhat removed from city life, and having access to a 24 hour practice space in Hudson, has resulted in an unparalleled level of discipline and focus on their craft. In addition to the new record, the band's impending relocation to Philadelphia, and September tour with Warehouse, expect Palm to take their incredibly tight live show on the road in support of 'Trading Basics' in the year to come.




Plush
Stan, E, Karl, Dyl
-from San Francisco, CA
-An exciting new sound grips the Bay Area's music scene as Plush pushes the bounds of genre and style. Plush is a four-piece originating from San Francisco, with members of local SF legends The She's. While their debut LP, Pine, is a beautiful combination of surf-rock and shoe gaze, their auspicious new release, Please, encapsulates a completely different tone, both sonically and lyrically. Lush and warm, it has cinematic quality which suggests, somehow, that each track takes place in a different climate. With the angular and ethereal falsetto of Karli Helm contrasted by the hypnotic and unwavering voice of Eva Treadway, Please echoes a melancholic honesty that captures the album's heart-breaking, yet insightful versatility, deriving from both Wowee Zowee era Pavement and Painful era Yo La Tengo. Sonically, the album embraces twinkling guitar tones that are blitzed with spurts of grainy fuzz, flaringly precise and graceful drums, as well as complimentary bass riffs that swirl and swoon each track, working in unison to pin-point these heart-wrenching emotions with clarity and catharsis. After sharing the stage with bands such as Ceremony, All Dogs, Ducktails, Sales and Creative Adult, they have proven their ability to blend seamlessly into wherever they may end up.