Friday
March 10
2017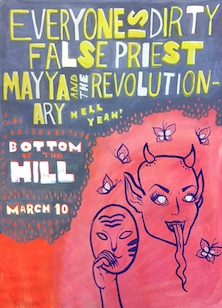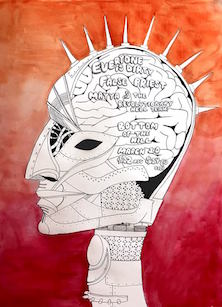 8:30PM

doors -- music at 9:00PM

•••

ALL AGES




$

12

in advance

/ $14

at the door


Donut Time Records presents...




---a double record release---


Everyone Is Dirty
www.everyoneisdirty.com/


post-punk psychedelic




False Priest


www.facebook.com/falsepriest42/


modern rock/post-country


Mayya & the Revolutionary Hell Yeah
www.facebook.com/mayyamusic/


alternative funky rap
---

Everyone Is Dirty
Sivan Lioncub
Christopher Daddio
Tony Sales
Tyler English
-from Oakland, CA,
-Formed in early 2013 in Oakland, Everyone Is Dirty has been steadily rising on the strength of their hard-hitting home recordings described as "bedroom-tapes on bath-salts" and their explosive live show, distinguished by frontwoman Sivan Lioncub's exotic electric-violin antics and emotionally charged performance. Her violin style has been described as punk, noise, romantic, ethereal, and it encompasses all that, but her violin is a captivating tool of self expression that you really just have to witness. As she moves across the stage wielding her fiddle like a weapon, co-songwriter/engineer Christopher Daddio culls monstrous tones out of his beat-up acoustic guitar, while heavyweights drummer Tony Sales and bassist Tyler English keep that rhythm section cooking hot hot. Their debut LP, Dying Is Fun, was released on vinyl & digital formats in September of 2014 on SF's Tricycle Records, and made the year's top 10 list on The Bay Bridged, SF Weekly and KQED, and they played BFD, Noisepop, and Treefort. Strange, but shortly after Dying Is Fun was released, Sivan became deathly ill due to a penicillin allergy, and was hospitalized for several months. Looking back on that time, she feels that the album was a prophecy for the illness she later endured. If you want to know if she still thinks Dying Is Fun, you'll have to ask her.






False Priest
E.B.G.
T.E.
J.K.
C.R.
K.K.
-from San Francisco, CA-
-False Priest is a modern rock band from the San Francisco Bay Area. Someone once described their sound as "post-country," and they thought that was good. They want very much to be good people, and their lyrics are about that. The goal is catharsis. Once, they sold a bag of Flamin' Hot Cheetos for $50. Members of False Priest also play in Everyone Is Dirty, Known To Collapse, Sun Kin, Psychic Jiu Jitsu, and The Magpie. They have shared a stage with Palehound, Wild Ones, Franz Nicolay, The She's, and many more.

They are nearly finished with their first full-length album, Driving In Circles. Because of that, 2017 is going to be a big year for them. After they release Driving In Circles, they will be putting out music videos and going on tour to support it. They will also be finishing their second album, tentatively titled Contradictions.




Mayya & The Revolutionary Hell Yeah!
-Spencer Owings on lead guitar, Lucas Fendert on drums, Evan Anderson on bass, n Mayya on lead vox/rhythm guitar
-from San Francisco, CA


-"Diminutive in stature, Gargantuan in spirit" -Mayya was born in Russia, grew up in the TL in SF. she is inspired by david bowie, gogol bordello, iggy pop, funk music, george harrison, pretty much anything w energy and good melodies... and anyone who is unapologetically themselves! She has a band called Mayya & The Revolutionary Hell Yeah!