Tuesday
March 14
2017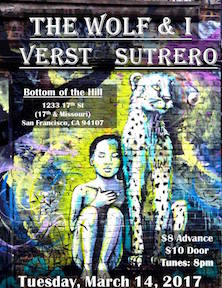 8:00PM

doors -- music at 8:30PM

•••

21 AND OVER




$

8

in advance

/ $10

at the door
The Wolf & I
thewolfi.bandcamp.com/


experimental post-metal post-rock


Sutrero
sutrero.bandcamp.com/


heavy metal


Verst
www.verst.org/


guitar space rock
---

The Wolf & I
Dave, Tom, Bob, Mike
-from the Bay Area, CA
-The Wolf & I is an instrumental rock band.
"Great songs, memorable moments and melodies make this album a pleasure to listen to. Thank you guys, you are awesome!"




Sutrero
Bob Nick: Vocals, Guitar
Braden Towne: Bass, Backing Vocals
Todd J. Collins: Drums
-from San Francisco, CA
-I call it Heavy Metal. Some might call it hard rock.
Whatever label, it's extremely loud, and at times it's very dark.
Sometimes short and to the point, other times taking many turns.




Verst
John Dickey - guitar, vocals //
John Parsons - bass guitar, vocals //
Brandon Hemley - drums, vocals //
Mark Marvelous - keyboards, guitar, vocals
-from San Francisco, CA
-In some parts of the city, 'two johns' would just mean a slow night for a tenderloin hooker. But in the rock clubs and bars Verst frequents, we hope that those two words will soon be the code phrase for "an outlandishly melodic assault of postmodern proportions." Former leaders of Pie & Richard Bitch (John Dickey on guitar) and Rule of Thumb (John Parsons on bass and Brandon Hemley on drums) have joined forces to create the kind of music that kicks you in the head and leaves a footprint on your brain. Mark Marvelous on guitar and keyboards completes the lineup.

We could spend a lifetime cataloging influences, but what's the point? Just because we're totally into polyester shit like Bread, America, and Neil Sedaka; acid-drooling shout-from-the-mountain aural candy like Lilys, Echo and the Bunnymen, My Bloody Valentine, and Hawkwind; and mythic hard-riffing slabs of meat like Sabbath, Zeppelin, Blue Öyster Cült, and Judas Priest, doesn't mean we sound like any of that. Though maybe we do…if you put it all in a blender and jam your middle finger in an upwards motion on the purée button.

But yeah, if you like 70s horror and sci fi flicks, space, heartache, murder, and/or obscure and random perversions, then you will love Verst. This is rock and roll for adults—and problem children of all ages.