Friday
March 24
2017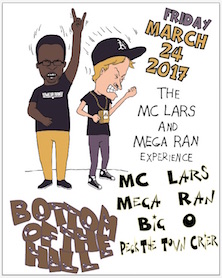 8:30PM

doors -- music at 9:00PM

•••

21 AND OVER




$

12

in advance

/ $14

at the door
MC Lars
www.mclars.com/


Hip hop, Nerdcore


Mega Ran
~

Raheem Jarbo


megaran.com/


Hip hop, Nerdcore


Big O
www.facebook.com/bigonw
hip hop punk rock
Peck The Town Crier
peckthetowncrier.com/


debt core



---

MC Lars
MC Lars
-from Oakland, CA/Brooklyn, NY


-MC Lars is a rapper, producer, writer, cartoonist and Stanford University alumnus. He is one of the self-proclaimed originators of "lit-hop" and was one of the first rappers to sample and reference post-punk and emo bands. He is the founder and CEO of the independent record label Horris Records. He has recorded for Truck Records in the UK, Sidecho Records in the United States, Big Mouth Records in Japan, and Shock Records in Australia. He was formerly known as MC Lars Horris but changed his pseudonym to MC Lars in 2004 for purposes of simplicity. Nielsen has opened for Snoop Dogg, I Fight Dragons, the Matches, Lupe Fiasco, Nas, Simple Plan, Bowling for Soup, Gym Class Heroes, Say Anything, Streetlight Manifesto, Suburban Legends, Test Icicles, Jack's Mannequin, Patent Pending, Bayside, Fightstar, MC Frontalot, mc chris, Wheatus, the Aquabats, T-Pain, Yung Joc, Cartel and Zebrahead.






Mega Ran
Raheem Jarbo
-from Phoenix, AZ
-"One of the most prolific and innovative rappers of the 21st Century," -Phoenix New Times.
"Random's proven he can excel in storytelling, punchlines, poignancy, freestyling and, well, pretty much any other way you can measure an MC." – LA Weekly

Random, aka Mega Ran, or Random Beats. Teacher, Rapper, Hero.

When LA Weekly said that Ran's "fanbase and niche audiences are growing at a rate not seen since Tech N9ne," they meant it. A former middle school teacher, Mega Ran (formerly Random) blends education, hip-hop and gaming in amazing new ways, penetrating the farthest reaches of the galaxy with his unique rhyme style and electric performances. Retro video games were the catalyst. Random began the transformation into Mega Ran, his alter-ego, an ode to the classic video game character Mega Man. After creating a tribute album and receiving an unprecedented level of support and blessing from Capcom to continue, Ran was reborn and became a trailblazer in the budding "nerdcore" and chiptune subgenres, while coining his own term to describe what he had done, "Chip-Hop."






Big O


-from Caldwell, ID


-Energetic Hip Hop Punk Rock with a live band and nice tracks. Positive. Progressive. Real.




Peck The Town Crier
Peck the Town Crier
-from San Francisco, CA


- This Friday Night, March 24th 2017, I will be playing a rare Peck the Town Crier set at the Bottom of The Hill in San Francisco, opening for my nerdcore brethren MC LARS and MEGA RAN. I love these cats and their vibrant scene. Will be dusting off my classic raps for this short set, as well as unveiling a new song for the occasion.