Saturday
March 25
2017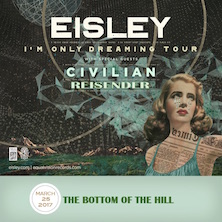 8:30PM

doors -- music at 9:00PM

•••

ALL AGES




$

15


Eisley
www.eisley.com/


indie rock


Civilian
civiliansounds.squarespace.com/


Indie Rock, Smart Rock


Reisender ----

Backwards Dancer

canceled this morning, 3/25
www.reisendermusic.com/


acoustic set




Rock folk synthpop
---

Eisley
Sherri DuPree-Bemis (vocals, guitars); Garron DuPree (bass);
Christie DuPree (vocals); Remington DuPree (drums);
Elle Puckett (guitars); Jedidiah Lachmann (keys)
-from Tyler, TX
-Tyler, TX-based indie pop outfit Eisley has announced 'I'm Only Dreaming,' the band's fifth full-length, which was produced by Will Yip (Circa Survive, Balance & Composure, Lauryn Hill) and will be released on February 17, 2017, via Equal Vision Records.

'I'm Only Dreaming' stays true to form of the band's signature dreamy sound, with vocalist/guitarist Sherri DuPree-Bemis elaborating, "Musically, you could say it's classic Eisley, in the sense that it's melodic, moody pop and is written from the heart. Lyrically, it's very whimsical; it has a vibe that will take you into its own world and let you escape your normal life for a few minutes. I like to cloak things in a little mystery and romance; I think it's part of what makes all of Eisley's songs sound like they're from the same world. Every record is like opening and reading a book in a series."

DuPree-Bemis opened up about "You Are Mine" revealing, "This song is about loving someone deeply and the beauty and challenges that come with being in a long term, committed relationship. You're going to argue, you're going to rub each other wrong and disagree and drive each other absolutely crazy sometimes but at the end of the day you just want to be together. ('You're my everything, my sun and moon, you make me swoon; Wake me up, talk too much, piss me off, but you are mine')."





Civilian
Ryan Alexander, Dan Diaz
-from Nashville, TN
-Intricately melodic and immediately captivating, CIVILIAN's You Wouldn't Believe What Privilege Costs is both a bold declaration from, and rebirth for, songwriter Ryan Alexander. Dubbed "The Best of What's Next" by Paste Magazine, their latest Tooth & Nail release guarantees CIVILIAN's place in the canon of modern American independent music.

A follow-up to 2012's Should This Noose Unloosen, YWBWPC's ringing guitars and sonorous vocals sway with austere, precise drumming while thoughtful bass paints outside the lines. With each track, frontman Ryan Alexander uses his art to add nuance to how we talk about government and poverty.

"YWBWPC is an attempt to examine the intersection of love and politics and science and hope and nihilism. These aren't mutually exclusive ideas" says Alexander. "They interact every second of every day, yet we feel the need to keep them separate and neat. Love is anything but neat. Religion is anything but easy. Politics are anything but convenient. We should boldly sit at the table of ideas and share our stories. This is what it is to be human."




Reisender
Paul Conroy
-from Germany/San Francisco, CA
-Reisender is the Moniker of Songwriter/Producer Paul Conroy. Reisender began when producer & songwriter Paul Conroy bought a neglected mandolin for 40 euros from a Flea Market in Stuttgart, Germany. The first few songs were written under bridges and on street corners of 20 different cities in Europe. From its origin as "Strassenmusik" (street music) Reisender embodies the spirit of the traveler, who embraces change and transience, especially in the face of adversity and hardship. In 2016, Reisender partnered with The Canvas Group to mix and master "New Year" and went on to perform Great American Music Hall, Bottom of the Hill, and Hotel Cafe in Hollywood in support of the album.

Reisender's music features an eclectic mix of 80s-reminiscent synths and drums, grooving mandolin riffs, cement bucket drum samples, and unadulterated indie pop hooks. The result is a sound comparable to groups such as Two Door Cinema Club, Tame Impala, Washed Out, and Miike Snow. Conroy's greatest personal influences are Paul Simon, Damon Albarn, Pixies, and Paul McCartney.

Reisender has also collaborated with local bay area artists such as Travis Hayes, Owl Paws, and Debbie Neigher by producing remixes of their works..




Backwards Dancer
www.backwardsdancer.com/


Alternative / Indie


Zack Shaw | Ryan Kelleher | Ian van Opijnen | Andy Underwood
-from Attleboro, MA


-Loud, honest, thoughtful and intense; Backwards Dancer's debut EP - New Life In Old Shoes - tells an ordinary narrative in an extraordinary way. Frontman Zack Shaw (former vocalist of The Hotelier) speaks with a conviction and sincerity that pushes the boundaries of modern indie rock without losing sight of who they truly are. This sense of realness is intrinsic to the band's anatomy, compelling audiences to reflect on themselves in the same way that Shaw is so capable of doing.





Formed in 2014 in Massachusetts, Backwards Dancer quickly developed into their unique style of emo rock. With influences ranging from Nirvana to Brand New to Radiohead, the band – comprised of Shaw, guitarist Ryan Kelleher, and drummer Andy Underwood – seamlessly translates deep intrapersonal emotion into thoughtfully orchestrated compositions. The synergy of Shaw's meditation, Kelleher's intuition and Underwood's sensitivity creates an intense musical experience where each member's talent shines in their respective soundscapes; both in the studio and on stage.