Tuesday
March 28
2017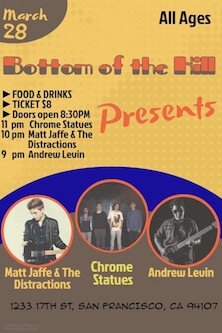 8:30PM

doors -- music at 9:00PM

•••

ALL AGES




$

8


Chrome Statues
www.facebook.com/ChromeStatues/


alternative garage indie rock


Matt Jaffe & The Distractions
www.mattjaffemusic.com/


Rock 'n' Roll


Andrew Levin
www.facebook.com/andrewlevinmusic/


electronica funk indie jazz pop psychedelic rock
---

Chrome Statues
Joe Yuhre (Guitar/Vocals)
Matt Risso (Drums)
Miles Davis (Bass)
Connor Millitello (Lead Guitar)
-from Walnut Creek, CA


-Across the San Francisco Bay Bridge heading east through the Berkeley tunnel will lead you to the East Bay, the home of Chrome Statues. Formed in the Summer of 2016 Chrome Statues headlined their first show at the Brick and Mortar Music Hall in San Francisco and finished their year playing a live radio set for SF State's KSFS. Drawing inspiration from The White Stripes, Alabama Shakes, The Strokes and Nirvana, Chrome Statues is grounded in pure rock. January 2017 marks the debut self titled EP featuring five original songs.





Matt Jaffe & The Distractions
Matt Jaffe - Vocals, Guitar. Paul Paldino - Bass. Thomas Yopes - Drums.
-from San Francisco, CA
-Matt Jaffe & The Distractions is a rock 'n' roll band based out of San Francisco, CA. After Jerry Harrison, keyboardist of Talking Heads fame, discovered now-21-year-old Jaffe performing solo at a local open mic, the two worked together to produce his first set of studio recordings. Following this first taste of the music industry, Jaffe put together his own band of Paul Paldino on bass and Thomas Yopes on drums. Inspired by the pop, punk, and rockabilly mixtures of groups such as The Clash, X and Elvis Costello, the young group recorded their first EP of original material with producer Matthew King Kaufman (Jonathan Richman, Greg Kihn), Blast Off, released in April 2015. After a brief educational stint in Connecticut, Jaffe is back in San Francisco with the group, ready to take the world by storm with their unique brand of California rock.






Andrew Levin
Andrew Levin
-from Oakland, CA


-Andrew Levin is ubiquitous. From performing and recording with the likes of Terrance Martin, Kev Choice, Zion I and Emily Afton, he has set a foundation as the go-to guitarist for a number Bay Area (and beyond) musicians and artists. On his own, as he emerges as a solo artist, he draws on his diverse musical influences, reflecting tinges of Stevie Wonder to Radiohead into his singular blend of music that features a fresh and a promising transcendent trajectory as a singer-songwriter. He is setting an intentional path to create music that is entrancing and meaningful.










\