Tuesday
April 4
2017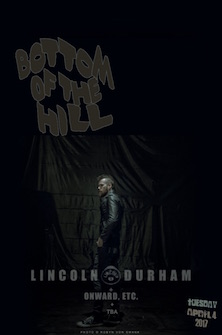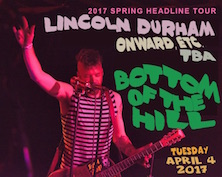 8:30PM

doors -- music at 9:00PM

•••

21 AND OVER




$

12


Lincoln Durham
lincolndurham.com/


Southern-Gothic/Psycho-Blues/Revival-Punk One-Man-Band


Onward, etc.
www.onwardetcmusic.com/


folk
---

Lincoln Durham
Lincoln Durham
-from Texas/New Jersey
-Armed with old bastardized mid-century guitars, hand-me-down fiddles and banjos, home-made contraptions with just enough tension on a string to be considered an instrument and any random percussive item he can get his claws or hooves on, Lincoln Durham is an amped up Southern-Gothic Psycho-Blues Revival-Punk One-Man-Band preaching the good word of depravity. With driving guttural beats back-boning his growling instruments Lincoln births a sound that transcends genres while telling dark and raw tales that Mr. Poe would have blessed with his own tears.

His last album, Exodus of the Deemed Unrighteous, aimed to take a hundred-foot scythe to the doubters and the naysayers; and, as if he's left the field decimated as evidence of his victory and has nowhere left to turn but inward, Revelations of a Mind Unraveling is pure descent into the internal agonies of Lincoln Durham's tormented mind.




Onward, etc.
Rosco Wuestewald & Family
-from Yankton, South Dakota
-Onward, etc. is a musical project put together by Rosco Wuestewald. Leaving the midwest at an early age, he started a journey traveling around the world which has developed into a project known as Onward, etc. The project connects musicians located throughout the country, enabling each tour and show be completely unique based on the different band members and the location of the stage. Onward, etc. project has been successful as the cyclone of musicians have acquired components and companions in nearly every state in the country. They have played with a dream-come-true list of bands featuring: Larry and His Flask, Skinny Lister, Lucero, Flogging Molly, Dropkick Murphys, The Goddamn Gallows, Reverend Horton Heat, Murder By Death, Rusted Root and many more. They have been a part of Coachella, Bonnaroo, Floyd Fest, SummerFest, Vans Warped Tour, SE Alaskan State Fair, and venues both intimate and rowdy throughout the U.S. & Europe. This caught the eye of DC Jam Records who signed them in 2014. Onward, etc. lives by their name as they forge onward created the album "Sonder On" with DC Jam Records and Derek Obrien (Social Distortion, D.O.B Sounds) They released the album in March 2014 and have been ripping up the road with it since. Successfully doing a handful of US headlining tours including the Vans Warped Tour '15 and one European tour. As they march forcefully into the new year there are hints at a new release and lots and lots of touring to come.