Friday
April 28
2017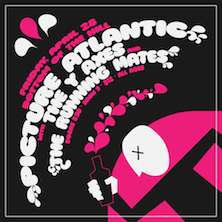 8:30PM

doors -- music at 9:00PM

•••

ALL AGES




$

12


----

Me And That Man

are off the bill
Picture Atlantic
www.pictureatlantic.com/


alternative rock


The Y Axes ----

Cemetery Sun

off this bill; on 4/27 instead
www.facebook.com/theyaxes/
Space Pop/ Moon Rock/ Post-Americana
The Running Mates
www.therunningmates.com/


Rock n' Roll
---

Picture Atlantic
Nikolaus Bartunek / Ryan Blair /
Daniel Martinez / Live Keys: Symeon Tzvetkov
-from Santa Clara, CA
-Picture Atlantic, the ever-evolving alternative rock band from Santa Clara, CA recently released their third album ASSOUF. With this new music, Vocalist/guitarist Nik Bartunek, bass guitarist Ryan Blair, and drummer Daniel Martinez are "more musically cohesive than ever before," now playing to each others' strengths as much as their own.

The band's catalog is defined by Bartunek's striking vocal style and range combined with the musical and rhythmic backbone of Blair and Martinez, the creative counterpoint to the haunting vocal melodies.

While the band once saw that not being similar enough to other groups secluded them from larger audiences, they now embrace the idea. "Our 'sound' is that we don't just have one type of sound."

Since their debut album, Kleos (2008), the band have cultivated a passionate and devoted local fan base, becoming a staple of the Bay Area music scene. They have performed alongside Coldplay, The English Beat, STYX, Say Anything, Eisley, and Dan Black among many others.

The band describes the new material as "darker, but also more hopeful" and "heavier" than their previous album, Digital Tension (2012) - which The Owl Mag called, "an exquisite mix of thrilling, boppy synth highs and dark, heavy bass lows."

As to why audiences should care, the band prefers the direct approach. "We know you'll love our music. We just need to make sure you hear it."





the Y Axes
Alexi Belchere - Vocals, Devin Nelson - Guitar/vocals, Nick Schneider - Drums,
Jack Sundquist - Bass
-from San Francisco, CA


-We are not the future of pop music; we are pop music from the future. The Y Axes are a post-apocalyptic alternative pop band from the San Francisco Bay Area. Drawing influence from a myriad era of popular and esoteric music, they have refined a unique style that is often anthemic but always bittersweet. Intricate melodies, contagious hooks, and snapping rhythms help drive their compelling stories of coming of age in chaos and finding love in the direst of situations. The Y Axes are pop for music nerds.






The Running Mates
Spencer Broschard, Julie Lavery
-from Los Angeles, CA


-The Running Mates are a rock duo made up of Julie Lavery and Spencer Broschard. The pair met while attending Berklee College of Music in Boston, MA. Their strong musical chemistry soon became apparent and they began writing together. After a few years spent honing their writing and performance skills, The Running Mates were born. By mixing powerful, thought provoking lyrics with catchy guitar riffs and dueling melodies, The Running Mates are bringing back music with feeling.