Satur
day
April 29
2017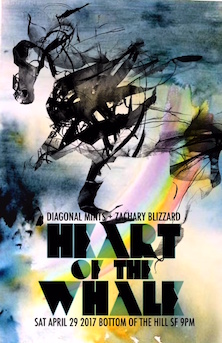 8:30PM

doors -- music at 9:00PM

•••

21 AND OVER




$

12


Heart Of The Whale
www.heartofthewhale.com


Rock & Roll


Diagonal Mints
www.facebook.com/diagonalmints/


psychedelic shoegaze slacker space rock


Zachary Blizzard
zacharyblizzard.bandcamp.com/


Indie / Folk / Rock
---

Heart Of The Whale
Jonathan Nicholson - Vocals & Guitar, Joe Wilinski - Drums,
Jon Turner - Bass, Keys, & Vocals, Sven Forner - Guitar
-from San Francisco, CA
--Heart of the Whale is a San Francisco rock'n roll band with something very dark up their sleeves. They blend psychedelic gospel, fuzzed out blues and heady distortion. Raucous, beautiful and sometimes harrowing but they do it all with a sideways smile and a tip of the hat.

Their songs are stories heard from across a campfire or lived through a young boy in a small North Carolina church. Their self titled debut album was written and recorded between Fall 2012 & Spring 2014, and released in April of 2015.





Diagonal Mints
Zach Bockman, Angus Haller, Alex Palecko
-from San Francisco, CA


-We are Diagonal Mints. SF based, three piece, noise driven slacker rock.






Zachary Blizzard
Zachary Blizzard
-from San Francissco, CA


-Zachary Blizzard has been writing songs prior to leaving Inland Empire, Garage/Art-Rock band Jenoah in 2005 as drummer returning north to his native Northern California / San Francisco. Blizzard was the lead singer and main songwriter for the San Francisco Indie Rock band Cannons & Clouds. He is currently playing shows throughout the Bay Area and nationwide.