Sunday
April 30
2017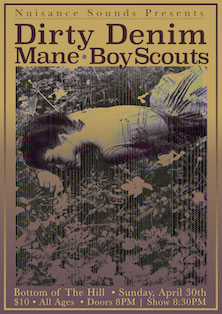 8:00PM

doors -- music at 8:30PM
•••
ALL AGES
$
10
Nuisance Sounds presents...

A concert bringing femme and non-binary musicians to the front, featuring...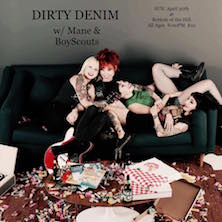 Dirty Denim
www.facebook.com/dirtydenim/


rock garage


Mane
www.facebook.com/manemanesf


gothic post-punk


Boy Scouts
www.facebook.com/bboyscouts/


bedroom pop
---

Dirty Denim
Katie Rose - Guitar/Vox, Laura Svec - Bass/Vox
Raquel Reyes - Drums/Vox, Niki Kangas - Guitar/Keys/Vox
-from San Francisco, CA
-Combining obscure sixties garage with 50's/60's girl rock and garage punk, all girl trio Dirty Denim bring a refreshing bit of fan fetishism to the impetus of sleazy rock 'n roll. After guitarist and lead singer Katie Rose (BOMP! Records baby of les Hell on Heels) migrated down to San Francisco from Portland, Oregon with bassist Laura Svec, they eventually joined with drummer Raquel Reyes (The Peppermints) to form Dirty Denim. They swiftly made their mark in the North Bay area gigging with local and touring bands at S.F. venues such as; Great American Music Hall, Rickshaw Stop and Bottom of the Hill.
This year (2016) they added a fourth badass, Niki Kangas, who juggles keyboard, guitar and tambourine. Dirty Denim doubled down with explosive keys, catchy riffs and backup gang vocals that are impossible not to sing.
Watching them go from 3 shy girls nervously giggling into microphones... to an all out WILDFIRE on stage has captivated me. Always obsessed to see what they'll do next and literally twitching to hear their FIRST FULL LENGTH RECORD (set to release this year)... I wait impatiently.
Dirty Denim is now headlining local shows and supporting great bands like, The Coathangers, The Birth Defects, Shannon & the Clams and many others. These are four of the hardest working women in the industry, so catch these busy bees any time you can! They're impossible to tie down!!(well...figuratively)
-Bob Cantu




Mane


-from San Francisco, CA


-garnet meets violet meets meatlocker





Boy Scouts
taylor vick
-from Manteca/San Francisco, CA


-The bedroom recording project of Taylor Vick tears you apart with sweet, soft and thoughtful lyrics then builds you back up with a voice like an angel and melodies sure to be stuck in your head for days.