Wednesday
May 3
2017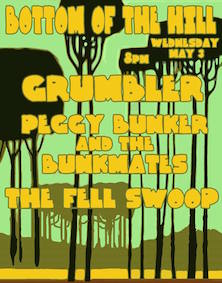 8:00PM

doors -- music at 8:30PM

•••

21 AND OVER




$

8


Peggy Bunker And The Bunkmates
www.thebunkmates.com/


Indie Dance Pop


Grumbler
www.facebook.com/grumblertunes/


blues rock progressive


The Fell Swoop
www.facebook.com/TheFellSwoop


Soul, Disco, Dance



---

Peggy Bunker And The Bunkmates
Adam Hurwitz, Kevie Farino, Ryan Armistead, Philly Hermans
-from San Francisco, CA
- "About a year ago, on the top of Potrero Hill in San Francisco, a terrible decision was made. Emboldened by the sounds they were creating, our heroes, rybaby, heavie kevie, and adam daddy agreed to "bunk-up" in a 2 bedroom apartment and thus the legend of Peggy Bunker and the Bunkmates was born.

Inspired to bring intimacy back to the dance floor, Peggy Bunker and the Bunkmates mix and meld underlying rhythms to tell stories that transport you from cruising down the Cali coast to lounging on a Peruvian terrace on a sweet summer evening. Their current project *Boogie-amos* blends bright summer sounds with dancey rhythms and catchy melodies that make you feel like you're right there on the adventure with them.





Grumbler
Chugs Gazorpazorp - Guitar, Vocals
Ben Witzke - Drums
Dino Mehicic - Bass
-from Oakland, CA


-3-piece rock band from Oakland, California






The Fell Swoop
Brittany - Vocals, Rosa - Vocals
Caleb - Guitar, Pearce - Keys
Brian - Bass, Zach - Drums
Katie - Alto Saxophone, Matt - Trumpet
-from San Francisco, CA
-The Fell Swoop is a San Francisco 8-piece that blends funk, soul, and pop. The live line-up boasts two charismatic female singers alongside two energetic horn players backed by a super-tight rhythm section.