Friday
May 5
2017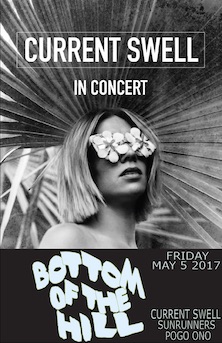 8:30PM

doors -- music at 9:00PM
•••
ALL AGES
$
12
in advance

/ $15

at the door

Current Swell
currentswell.com/


Indie folk,Roots reggae, Blues, Reggae, Ska


Sunrunners
sunrunners.bandcamp.com/


.indie rock


Pogo Ono
www.facebook.com/pogoonomusic/


power-pop
---

Current Swell
Scott Stanton
Davers Lang
Chris Petersen
Ghosty Boy
-from Victoria, BC, Canada
-The members of Current Swell no longer live together under a single roof — as they did years ago,
when the group first came together as a unit — but the bond between the four friends is stronger thanever. Touring the world for the better part of five years, from Brazil to Australia, often has that effect. Current Swell's years of experience on the road can be heard — and felt — in the nooks and crannies
of Long Time Ago, the new full-length from this rootsy Victoria, B.C. quartet. The record shifts
between upbeat folk (the title track, Long Time Ago) and singalong-ready roots rock (the first single,
Too Cold) with a fluidity and ease that could only come from continual touring.





Sunrunners
Stephen Loase (Low-c): Lead vox, Keys
Jordan Meyer: Guitarist, Background vox
Mark Colwell: Drummer
Andy Francis: Guitarist, Keys, Background vox
Paul Chalker: Bassist
Hunter Dreidame: Viola
-from San Francisco, CA


-Sunrunners is a San Francisco-based quintet led by singer / songwriter Stephen Loase. Since releasing their first self-titled album in 2014 the band has been making a name for themselves with high-energy live shows at popular Bay Area venues like Great American Music Hall, Rickshaw Stop, Slim's, Bottom of the Hill, Elbo Room and more. A combination of haunting piano licks, ethereal guitar and synth riffs, pounding bass lines all backed by a thunderous drumset, you can catch them on Spotify, Soundcloud and, if you're lucky, Live 105's Soundcheck Show w/ Aaron Axelson (w/ single "Stars and Colors"). Their song "Save Everyone" was also featured in a promo for "The Voice" in 2016. The band is headed into the studio later this year to work on their next album, and they can't freaking wait to share it with you all.






Pogo Ono
-James Goad (guitars/vocals), Jennifer Hale (guitars/vocals),
Adachi Hiroyuki (bass/vocals), Dave Leonard (drums/vocals)
-from San Francisco, CA


-"Pogo Ono are a San Francisco based power pop band, formed in the fall of 2013, featuring members of The Pleasure Kills, TheTitan Ups and Killer's Kiss. Their sound is heavily influenced by late 70's and early 80's bands such as The Jam, The Vapors, Undertones, Pointed Sticks and Elvis Costello."