Friday
May 12
2017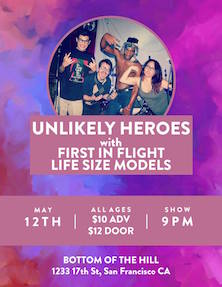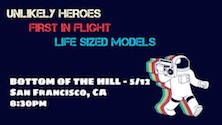 8:30PM

doors -- music at 9:00PM

•••

ALL AGES




$

1

0

in advance

/ $12

at the door
Unlikely Heroes
www.uheroesband.com/


Hip-Hop/Punk Rock


First In Flight
www.facebook.com/firstinflightband/


Indie/Dance Rock


Life Size Models
www.facebook.com/LifeSizeModels/


Indie/Alternative



----

previous show (with The Building~Nightlands) canceled


*Refunds will be automatically issued to whose who had bought advance tickets



Friday

May 12

2017

8:30PM

doors -- music at 9:00PM
•••
ALL AGES
$
15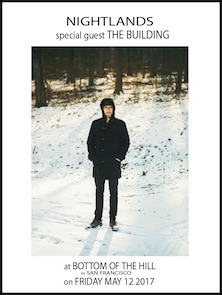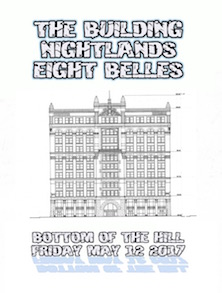 The Building
Folk
Nightlands
Dreamy psych pop
Eight Belles
americana country-alt folk
---

Unlikely Heroes
Lead Vocal - Enon Gaines
Bass - Ruth Marin
Lead Guitar - Atlix Martinez
Drums - Jeff Wilson
-from San Francisco, CA
-Unlikely Heroes is Hip-Hop/Punk Rock band from San Francisco, Ca. This eclectic group is synthesizing Hip-Hop and Punk with beats and melody that are fresh, exciting, and long waited for. Boasting with high energy, venue rocking jams, they also find balance with spacey, vibe-y anthems to create a well-rounded experience and depth in their art form. These Heroes truly cater to their "more than meets the eye" appeal. Aesthetically, they are a diverse group with a range of cultural and musical backgrounds. Sonically, they are insane Hip-Rockers that can cater to any crowd or venue without losing their Star Power in translation.






First In Flight
Pat McCloskey | David Topete | Richard Mier | Max Huss
-from Milpitas, CA


-At the end of 2015, best friends Richard Mier (lead guitar) and David Topete (bass) looked at each other during a Walk the Moon concert and said "we can do this". After weeks of jamming in their gear stuffed rooms, they teamed with drummer Max Huss, who jumped over from David's brothers band, and found singer/songwriter Pat McCloskey through Craigslist (I know right?). Hailing from Chicago with a pretty falsetto and stories of too many bizarre nights, Pat brought the pop dynamic the band needed to project their neo-80s rock into the modern age. On September 1st 2016, the band was officially formed. With their new found chemistry, the band quickly began polishing their songs for the stage and studio. Their goal was simple: make the tracks for your party/kickback/heartbreak playlist. Their debut EP "HOLD ON THE HIGHS" was released January 6th and they look forward to tour the Western Part of the US in 2017.






Life Size Models
Vocals, Guitar: Chris Seymour
Lead Guitar: Jonathan Sosa
Bass Guitar: Anthony Martos
Drums: Macks Edward
-from San Jose, CA
-Forming in late 2013 as an outlet for dealing with college hardships, anxiety, and growing pains, lead songwriter and singer (Chris Seymour) worked with various talented musicians in order to craft a substantial collection of songs. LSM subsequently released a uniquely self-confident, inviting, catchy debut EP titled "Burden of Youth" containing 5 songs ranging in diversity from a summertime drive down the coast to the last drive back home after a particularly painful break-up. Life Size Models has received a mention in CMJ.com new music discovery and landed in heavy rotation on 90.5 KSJS.
The band is currently working on a follow-up EP.