Friday
May 12
2017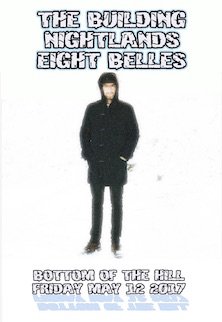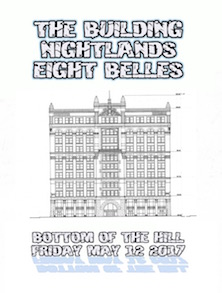 8:30PM

doors -- music at 9:00PM

•••

ALL AGES




$

15


The Building
www.facebook.com/thebuildingmusic/


Folk


Nightlands
www.nightlands.us/


Dreamy psych pop


Eight Belles
eightbelles.bandcamp.com/


americana country-alt folk
---

The Building
Anthony LaMarca | Angelo LaMarca
-from Youngstown, OH
-The Building is brothers Anthony and Angelo LaMarca from Youngstown, Ohio. They released their first album 'The Swooshy Businessman' in 2012. The songs dealt with the brothers' search for positive male influence in their life. Someone who hadn't lied, cheated, given up, left, walked away…

In May 2015 Angelo and Anthony started recording a new album called 'Reconciliation' with Gary Rhamy at Peppermint Recording Studio in Youngstown, a place made famous by their multiple Grammy-award winning Polka recordings. Some of the songs they were working on examined some of the choices their dad made in his life while dealing with an MS diagnosis in his late twenties. Questioning how people deal with tragedy, whether they know it is coming or not. A few months later Anthony found out he had Multiple Myeloma (bone marrow cancer), throwing him into the same situation he had been writing about. They finished the record by the end of the year, half recorded before knowing what was wrong and half after, with the health news obviously influencing the songs. It can be an intense listen; dealing with confusion, fear, not knowing what's coming or how it will work out, death… Their goal though was not to provide more problems, but to find peace in the situation, to try and navigate this all with consideration and patience. The goal is to get rid of all fear, especially of inevitable situations. Anthony LaMarca currently plays in The War On Drugs, sometimes with Dean & Britta, and previously with St. Vincent. He has a perfect wife named Megan and also a wonderful German Shepherd named Petra. His favorite grocery store is Giant Eagle.

Angelo LaMarca currently teaches art at two different Youngstown schools. His paintings are featured on the 'Reconciliation' packaging. He and his wife Andra have a daughter who is full of light and loves to point at things. Angelo is a big advocate for early 21st century Dodge Caravans.






Nightlands
Dave Hartley on vocals and guitar, Anthony LaMarca (The War On Drugs, Dean & Britta) on drums, Eliza Hardy Jones (Strand of Oaks, Grace Potter an the Nocturnals) on keys and vocals, Jesse Hale Moore on keys and vocals and Scott Churchman (Chubby Checker) on bass.
-from Philadelphia, PA
-Nightlands, the project of Philadelphia-based Dave Hartley (best known as a core member and longtime bassist of The War On Drugs), will release his third album, I Can Feel the Night Around Me, on May 5th via Western Vinyl. I Can Feel the Night Around Me showcases Hartley's ability to layer his voice and conjure some of the most beautiful virtual choirs in modern music. Take album opener and lead single "Lost Moon." The synths and vocal stacks echo through a canyon illuminated by the light of a billion stars — gaze up long enough and you can make out the shapes of All Things Must Pass, The Beach Boys' Friends and Hiroshi Satoh's That Boy.
Hartley has been a fixture in Philadelphia's music scene for a decade and a half. He has performed his songs as a taut four-piece, a twelve-piece ensemble with a choir and as a one-man-band. Between tours he wrote and performed an original score to Stanley Kubrick's opus "2001: A Space Odyssey" and remains a prolific collaborator with artists including Sharon Van Etten, Carter Tanton, Torres, Steven A. Clark, Alela Diane, The Dove & the Wolf, amongst others.






Eight Belles
Jessie Phillips, Henry Aloysius
-from Oakland, CA


-Songwriter and vocalist Jessi Phillips and guitarist Henry Aloysius Nagle create inspired, subtle Americana music that pays respects to its influences but sounds like nothing but itself. If Harry Nilsson and Patsy Cline had a love child and left it in the forest to be raised by wolves, its cries would sound very similar to this music.