Tuesday
May 16
2017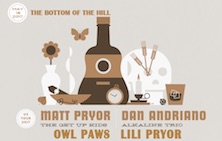 7:30PM

doors -- music at 8:30PM

•••

ALL AGES




$

14

in advance

/ $17

at the door
Matt Pryor
of

The Get Up Kids


www.facebook.com/mattpryorsongs/


Indie rock, emo, acoustic rock


Dan Andriano
of

Alkaline Trio


www.danandrianointheemergencyroom.com/


Punk rock, alternative rock, ska punk


Owl Paws
www.owlpaws.com/


.Rock
---

Matt Pryor
Matt Pryor
-from Lawrence, KS
-In March of 2012, singer and guitarist Matt Pryor decided to give up music for good. After seventeen years of writing, recording, and touring with a handful of bands—including emo ambassadors the Get Up Kids and folk-tinged indie troubadours the New Amsterdams.
Matt Pryor will release his new solo album Memento Mori on February 17 via Equal Vision/Rory Records. His last album, 2013's Wrist Slitter, sounded pretty similar to what he does in The Get Up Kids, but this is a twangier, folkier album, closer to Matt's music with The New Amsterdams.





Dan Andriano
Daniel Andriano (of Alkaline Trio)
-from St. Augustine, FL
-It's hard to write anything about Dan Andriano In the Emergency Room, since the chances are that you already have an opinion about the renowned bassist and vocalist who comprises one half of Alkaline Trio's songwriting team, as well as a general idea about what his other project probably sounds like. It's easy to reference his beloved day job. It's easy to use lazy superlatives like "legendary" or "mind-blowing" when it comes to Dan's career and skills. AND, it would be very, very obvious to say something like "Dan really stepped out of his comfort zone to select the right band to help him craft this batch of hits for the Emergency Room album" and utilize the following (actual) quote from Dan: "The Emergency Room started as something for me to do with songs I had been writing that didn't seem to have a place on Alkaline Trio records.

Dan Andriano In The Emergency Room is the side project of Alkaline Trio singer Dan Andriano. "It's a great day for bassist-vocalists" -Billboard

"This is Dan's moment" -Fuse

"The upbeat rocker is full of sharp hooks and roaring guitars" -SPIN




Owl Paws
Derek Schultz, Timothy Vickers Lucas Siobal, Wayne Mills
-from San Francisco, CA


-Owl Paws formed in 2011 when Derek Schultz,Timothy Vickers, and Lucas Siobal met as students in San Francisco. Over the years the boys pushed themselves to constantly write, record, and perform as often as possible to refine and challenge their sound. They have gone on several tours up and down the West Coast and to South By Southwest, playing everywhere from major venues to living rooms and dark caves. In July 2015 Owl Paws released their debut full length record "Reservoir", showcasing their emotionally driven folk rock sound. Their sound combines acoustic elements of folk music with driving drums, memorable vocals and progressive songwriting.