Saturday
May 20
2017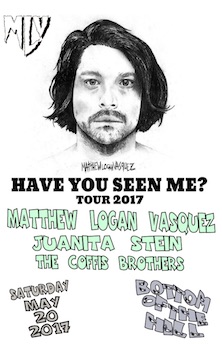 8:30PM

doors -- music at 9:00PM

•••

ALL AGES




$

15


Matthew Logan Vasquez
of

Delta Spirit


www.barnyardhammer.com/


psych-folk-rock


TBA


...


The Coffis Brothers
www.coffisbrothers.com/


Rock and Roll
---

Matthew Logan Vasquez
Maththew Logan Vasquez
-from Brooklyn, NY/Austin, TX
-Matthew Logan Vasquez is feeling optimistic.
That's not necessarily apparent the first time you spin his new full-length solo album. Each track on Matthew Logan Does What He Wants feels urgent and intense. Impatient landlords, financial woes and other frustrations fan the agitation embedded in the opening track, "Same." Isolation darkens the brooding images
of "͞From Behind The Glass." Death takes a bow on "The Fighter." Vasquez cant help but juxtapose the
celebration of Fatherhood with a lament that we ain't got the money to pay the hospital."

The music enhances this impression. As fans of his work with Delta Spirit and Middle Brother know well,
Vasquez knows how to fuse passion and poetry in his writing and then ignite this volatile mix with extraordinarily expressive singing. In this sense he stands as a peer and a worthy successor to those who influenced him as an
up-and-coming artist —Neil Young, Kurt Cobain, Pink Floyd, Lou Reed and others often mentioned,
none of them known for their upbeat, sunny lyrics.

In final form, Does What He Wants is like a hall of mirrors, each capturing a different image of one self-aware and restlessly creative individual. This music is diverse yet unified, which of course was a priority for its author. And, in the end, it turns out to feel pretty optimistic after all —a perfect statement for
these times and possibly for some time to come.
͞




TBA


-




-






The Coffis Brothers
Jamie Coffis, Kellen Coffis,
Kyle Poppen, Henry Chadwick, Aidan Collins
-from Ben Lomond, CA


-The Coffis Brothers & The Mountain Men are five young men from the Santa Cruz Mountains that have been playing around the Bay Area and beyond since 2010. The band consists of Jamie Coffis (Vocals, Keyboard, ) Kellen Coffis (Vocals, guitar,) Kyle Poppen (Guitar,) Aidan Collins (Bass,) and Henry Chadwick (Drums.) They play a style of music that is rock and roll in the most classic sense, melodic, rootsy and heartfelt. The songwriting duo of Jamie and Kellen show an obvious love for a bygone era of music and for groups like Tom Petty and the Heartbreakers, Neil Young and The Beatles as well as a sense of maturity and experience beyond their years.