Sunday
May 21
2017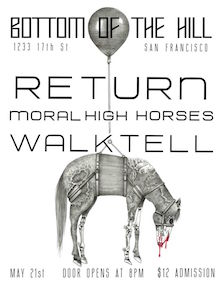 8:00PM

doors -- music at 8:30PM

•••

ALL AGES




$

10

in advance

/ $12

at the door
Return
from Mongolia


www.facebook.com/return.mongol


Post Alternative Rock


Moral High Horses
www.facebook.com/moralhighhorses/


Melodic/Psychedelic Rock


Walktell
www.facebook.com/walktell/


bedroom pop freakfolk psychedelic



---

Return
Zul Lkhagvasuren (Guitar and Vocals), Geoff Nelson (Guitar), Orgilon Tulga (Bass), and Amirlan Tsogtbayar (Drums)
-from Ulaan-Baatar, Mongolia/San Francisco/Los Angeles, CA


-Return is a Mongolian based Post Alternative rock band that was formed in California with the idea of expressing our life, feelings, beliefs, and doubts in honest and creative ways. We hope to encourage and bring people together through our passion and love for music.






Moral High Horses
Andrew, Sam, Serge, Blake and David
-from San Francisco, CA
-"For having only been around for less than a year Moral High Horses has hit the local scene running with blistering guitar solos and psychedelic melodies. The band is sure to impress and is releasing their first EP this year after spending much of the last 6 months recording in a basement in the hills of San Francisco."





Walktell
Jake Wachtel
-from Palo Alto, CA
-While Jake Wachtel's beginnings are somewhat typical—California-raised, piano lessons as a kid, high school punk rock band, etc.—the place he finds himself currently is anything but. Having now spent the better part of 7 years traveling around the developing world, Wachtel's down time on the road is split between meditation and music and in 2010 he made the decision to learn to play as many different instruments as possible. Those efforts are filtered into Walktell, a world music project that symbolizes the journey towards a deeper understanding of himself and his surroundings.

From his current base in Cambodia, Walktell is preparing to release a second full-length album, Far In, which features no less than 44 different instruments collected from across the Eastern Hemisphere, all performed by Wachtel himself. Walktell is a dedicated peripatetic making psych pop on instruments from all over the world. Slowly working on goal to play every instrument ever.