Thurs
day
May 25
2017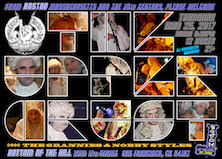 8:30PM

doors -- music at 9:00PM

•••

21 AND OVER




$

12


The Upper Crust
www.theuppercrust.org/


Rocque and Roll


The Grannies
www.thegrannies.com/


Rock / Punkrock


Nobby Styles
www.facebook.com/nobbystyles1966/


Hooligan Blues
---

The Upper Crust
Lord Bendover (guitar, vocals), Count Bassie (bass, vocals), the Duc D'istortion (guitar, vocals) and Jackie Kickassis (drums)
-from Boston MA, NYC
-The Upper Crust began in 1994 as an admittedly frivolous and comical concept, with no expectation but to entertain a few friends, that to everyone's surprise immediately took on a vigorous momentum of its own that continues to accelerate to this day. Two decades later the band has toured the United States and Europe, appeared on television's Late Night With Conan O'Brien and the Late Late Show with Craig Ferguson, played with bands like Aerosmith and the Go-Gos, performed at festivals including All Tomorrow's Parties and Tenacious D's Festival Supreme; they have placed a song in Guitar Hero, written the theme for the History Channel's American Daredevils; they were the subject of a full-length documentary film, produced a half-hour pilot for VH1, and were immortalized as animated characters in the children's TV show Codename: Kids Next Door. Now that they have worked the kinks out, they are ready to take the concept to its natural conclusion, which appears to be no less than massive, worldwide acclaim and, incidentally, riches beyond imagining.

So far the Upper Crust have released five albums: Let Them Eat Rock, The Decline and Fall of the Upper Crust, Once More Into the Breeches, Entitled, and Revenge For Imagined Slights. 2016 sees the release of a back-to-back album with friends the Grannies from San Francisco, to be called Lords & Ladies, and very soon another full-length record of new hits, tentatively entitled One Hand in the Cradle, One Foot in the Grave, but in reality to be called something else entirely. This new record is almost completed; the release date is yet to be determined.

The band consists of the Lord Bendover and the Duc d'Istortion on guitar, Count Bassie on bass (replacing Lord Rockingham and Marquis Mark, who left the band after the first year to pursue less lofty ambitions) and Jackie Kickassis on drums.

In the two decades of its existence, the band has won devoted fans around the world and secured beyond dispute its position as the finest purveyor of 18th-Century Rocque and Roll to the most demanding aficionados of the genre. With the release of the new album they are poised to win over those stragglers who have been thus far slow to perceive the seismic cultural shift represented by the Upper Crust. With their powdered wigs and velvet knee breeches the band may be perceived as funny (and maybe the observation is not entirely without merit), but they're not to be dismissed as a joke—their songwriting, their recordings and their live performances all speak to the fact that the Upper Crust are across the board, by every pertinent criteria, among the best rock, or as they say "rocque," bands to come along since the invention of the electrical guitar and the steam-powered amplifier.

So, Gentle Reader, if you have not already done so, take notice of the Upper Crust, for they are an indispensable anachronism of our modern age, and their music will be the theme to, and the cause and effect of, both the greatest events and the smallest and most intimate occasions thereof.

Sir Frederick of Hollywood





The Grannies
Wait, What? - Vocals, Keyboards, Guitar |
Lois 'Carmen' DeNominator - Lead Guitar |
Anita Drink - Rhythm Guitar |
Jayne Fondle - Bass, Harmonica |
Helena Handbasket - Drums |
Nice Young Man I, II & III - Stage antics
-from San Francisco, CA
-Some people say the Grannies are the inevitable end result from a society that has abandoned its educational system and lost all contact with its morality and civic cohesiveness. The truth, of course, is much, much worse.
The old, now defunct Mission Police Station, San Francisco is as good a birthplace as any for a phenomena as degenerate and altogether fucked up as The Grannies. The blame could be laid at the feet of Fate, but Fate already catches a lot of shit just by standing around, and really wants nothing to do with something as mentally debilitating as The Grannies anyway. Somewhere between 30 and 163 years old, they were drawn to each other there in the fetid human-ish stew slopped together in the holding cells. Petty crimes involving Wild Turkey, electricity, naugahyde, Top Ramen, pigeon feathers ("fresh"), Drano, or some combination thereof would be the official reasons for the various Grannies' incarcerations that fateful night (yes, we know, Fate, you already cleared yourself, so piss off), if any official record existed. It became rapidly apparent that the group had been thrown together for a purpose (seriously, Fate, fuck off; you're just being a bitch now). That purpose was the overthrow of the Austrio-Hungarian Empire….um….hmmmm

Since they were - as usual - both much, much too late, and violently unqualified for the task they set for themselves, they plotted their escape from jail to kill the time. Some time later their nascent leader pointed out that they'd already been out of said jail for hours, maybe days, and were loitering in the beer aisle of the Cala on South Van Ness. The sale on Lucky Lager they discovered there led them to realize their true destiny: to Fuck Shit Up. All of it. And to do so very, very loudly. After spending some time terrorizing the San Francisco old guy punk scene, causing so much consternation that one of their regular venues was forced to become a lesbian folk singer disco cabaret cock-hater-club to avoid any further encounters with the old guys in the old dresses and the old school punkrock doing Rock'n'Roll things to your face whether your face was ready or not, they surfaced long enough to cut a record or three: THE GRANNIES "S/T" DT-001 in 2000,"Taste The Walker" DT-004 in 2002 and "Erected Lady Man" WT-002 in 2004. And it was good. Because, and here's the bitch: the rock is good. It's really fucking good. It's no holds barred, if we were talking about wrestling, which we're not, god dammit. But if we were we'd be talking about illegal atomic pile drivers applied to your little fancy-boy codpiece, we'd be talking about Jimmy 'superfly' Snuka launching a devastating, dismembering assault from the turnbuckle straight down onto your supine sense of decency and all that is holy, we'd be talking about Hulk fucking Hogan lifting his finger, suddenly invincible, terrible to behold in a retarded camp kind of way, mocking the balance of nature as he unloads two humungous fists of spine-crushing sonic mayhem at your doomed-from-the-start, never-had-a-chance skull.

The Grannies have been around since before the dawn of mankind, but they still haven't figured out how to take a shower.

The Grannies are the best example of the benefits of an extensive and lengthy incarceration that the great state of Illinois has to offer.
-




Nobby Styles
NOBBY MATT
NOBBY WADE
NOBBY JON
-from San Francisco, CA
-What became NOBBY STYLES started out as an idea from Bad Matt and West Ham Wade. We had been listening to a lot of BOOTBOY GLAM, Oi!, and HEAVY BLUES ROCK: THIRD WORLD WAR, THE REDSKINS, COLOURED BALLS, POISON 13, SLADE, GIUDA, THE BUSINESS, SUZI QUATRO, MC5, FREE, even ACDC. The project started under the name, BRIGHT SHINY OBJECTS but quickly changed it to NOBBY STYLES. After losing our first bass player, Dirty Kurt, Sir John Brooder came in and THAT is when we became a functioning group. With one of the members having grown up in TEXAS, the feel is also heavily influenced by Blues legends like, John Lee Hooker, Lightning Hopkins, James Blood Ulmer, Mance Lipscomb as well as a Country feel. Don' t worry, though...We amp it up to its most sonic possibilities!