Fri
day
May 26
2017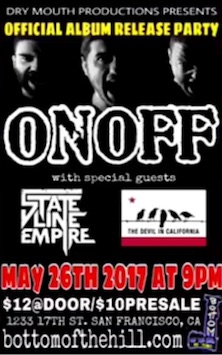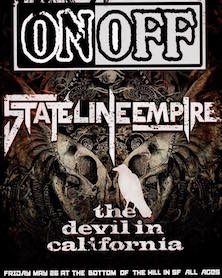 8:30PM

doors -- music at 9:00PM

•••

All AGES




$

12


ONOFF

(Album Release Show)


onoffrock.com/


Rock


State Line Empire
www.statelineempire.com/


Rock


The Devil In California
www.facebook.com/thedevilincalifornia


Rock / Hard Rock


DJ Rob Metal


metal DJ
---

ONOFF
PAULIE - Guitar, Vocals, DAVE - Bass, Vocals, STEVIE 10 BEAR'S - Drums & Cymbals, Vocals
-from Dublin/Dundalk, Ireland/Bay Area, CA
-ONOFF are a 3 piece Rock n Roll band hailing from Ireland who are currently based in California. The band have been touring up and down the west coast of the U.S while recording their new album at Tone Freq. in San Jose, California which is set for release later in the year and will be backed up with the guys touring the West Coast of America. This is the first time ONOFF have recorded in the U.S and with the album being mixed and mastered in the infamous District Studios in San Jose, they are extremely proud of their best material to date.

One of their highest accolades so far was their successful debut European album "Don't Take Our Word For It" which saw them on the cover of major music magazines across Europe. The release was supported by 12 Headline tours of Europe including shows in Germany, Netherlands, Belgium, Austria, Switzerland, England, France and a bunch of summer European Festival Tours. The album was received unanimously well across the European media with rave reviews right across the board. Their powerful catchy songs, along with their intense live shows show why these tours were a huge success. When they returned home to Ireland, ONOFF were awarded the title of "Best Unsigned Irish Band" in a public vote by leading Irish music magazine HOTPRESS.-




State Line Empire
Tyson - Vocals/
"Cat" (bUg) - Guitars-
/Jay - Drums
/Pete - Bass
-from LA/SF, CA
- Hailing from California, State Line Empire – Tyson (Vocals); Cat (Guitar); Dave (Bass); Jay (Drums) – has been tearing up and down the West Coast with their new brand of no holds barred straight up rock n roll. Add a bit of metal with catchy melody and you have a powerful combination of – looks n hooks that rock.​Meet the band – formed in 2010 – and after a whirlwind first few months of songwriting, the guys found that an exciting chemistry had emerged and the band was born. Making their journey even more exciting was being chosen as the winners of Guitar Center's Your Next Record with Slash, the groundbreaking unsigned artist discovery program. The outfit recorded a 4-song EP "Octane" with iconic producer Mike Clink (Guns N' Roses, Mötley Crüe, Megadeth) with Slash performing on the lead single "Drive Me." "More of You" co-written with James Michael (Papa Roach, Sixx AM and Motley Crue) is included on the EP as well as being featured on ESPN. Unwilling to rest, the band has gone on to create 2 additional songs that rock hard "Makes You Brave" and "Load Em Up" – available for digital download on iTunes.






The Devil In California
Jamie Cronander - Guitar, Anthony Malson - Vox, Snake - Guitar, Eddie Colmenares - Drums,
Matt Stewart - Bass
-from Oakland, CA
-The Devil In California: Classic but heavy-as-hell rock, you know you're in for something big and heavy when you first lay eyes on these guys, and that's just what you get. They bring their own brand of heavy rock, with low-slung guitars, attitude, impeccable musicianship, and soaring 3 and 4 part harmonies that crush with historic rock power and finesse.

Hailing from the broad, cracked streets of West Oakland California, The Devil In California have set out to create new rock music, and bring it to the world. That in-between thing that's heavy, but not metal. It's sing-alongy, but not sappy.




DJ Rob Metal
DJ Rob Metal
-from San Francisco, CA
-* A Vinyl Junkie and Purveyor of Extreme Metal ,Stoner Rock and the rest of
the Dysfunctional Family Tree.
* May have been seen at thee Parkside, The Knockout, The Fillmore, and
various other venues who cater to the genre.
Seems to be found at The Bottom of the Hill & DNA Lounge.

LB\