Sunday
May 28
2017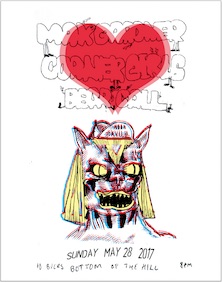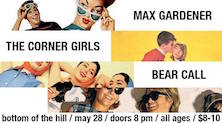 8:00PM

doors -- music at 8:30PM

•••

ALL AGES




$

8

in advance

/ $10

at the door
Max Gardener
maxgardener.bandcamp.com/


dream pop synthpop


The Corner Girls
thecornergirls.bandcamp.com/releases


pastel garage punk


Bear Call


bearcall.bandcamp.com/releases


garage pop rock surf
---

Max Gardener
Max Gardener
-from the Bay Area, CA
-A fast-rising presence in the Bay Area music scene, Max Gardener has spent the tail end of his teenage years making distinctly Californian indie rock reminiscent of Homeshake and The Radio Dept. On his just-released EP New In Town, Gardener's sunny but introspective pop sound ventures into new, funkier territory -- and the results are nothing short of kaleidoscopic. If you ask him, he'll describe his songs simply as "bedroom theme music." We call them perfect for romantics and realists alike.






The Corner Girls
Vox / guitar - Breanna Ahlgren
Bass - Jessica Pulido
Drums - Madi Pietruszka
-from Denver, CO


-Formed in early 2016 in the close-knit Denver DIY scene, The Corner Girls are a pastel punk trio out to crush the patriarchy and toxic masculinity with unapologetically feminine music that all can enjoy. And yes, we brought glitter.






Bear Call
Skyler Warren , Nikk Moreno
Shahan Salim, Zach Vito
Aaron Mortemore
-from San Francisco, CA
-Fuzzy, reverb drenched guitars? Check. Driving, heavy bass? Check. Loud, hard hitting drums? Check. Lyrics about love, frustration, and pissing yourself in a one night stand's bed? Check. Drawing influence from San Francisco garage rock heroes like Thee Oh Sees and Ty Segall, Bear Call is searching for a way to stay 20-something forever while evading all responsibility and forever chasing an excuse to wake up hungover. You are all welcome along for the ride, especially you, Mom.