Tuesday
May 30
2017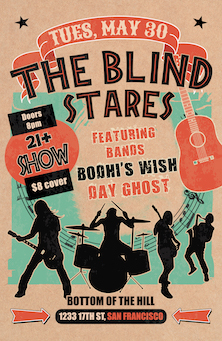 8:00PM

doors -- music at 8:30PM

•••

21 AND OVER




$

8


The Blind Stares
www.blindstares.com/


Garage Blues / Punk Funk Rock


Bodhi's Wish
www.facebook.com/BodhisWish/


alt-rock/soul/pop


Day Ghost
soundcloud.com/dayghost-66096328


electro-rock pop blues math rock funk




---

The Blind Stares
Scott Decker and Eric Waisman
-from San Francisco, CA
-Featuring heavy electric guitar riffs and soulful vocals by Eric Waisman (guitar / vocals) and driving rock / punk / funk beats by Scott Decker (drums) - this Garage Blues Duo pushes a wall of sound that blends old and new San Francisco indie rock. Born in 2017, recording their first album, and writing more crazy psychedelic blues sounds every day - say hello to The Blind Stares!

Neighbors in North Beach, friends in life, good guys - Eric and Scott have been playing music for years and this project represents the latest in their musical journeys. They also throw a hell of a party!





Bodhi's Wish
Michael Pickard - singer/songwriter
Sean Tatarian - drummer
-from San Francisco, CA


-Bodhi's Wish consists of multi-instrumentalist singer/songwriter Michael Pickard and drummer Sean Tatarian. Based in the San Francisco Bay Area, Michael and Sean combine experimental rock, soul, and pop together to form hauntingly soulful and catchy tunes.






Day Ghost


-from Oakland, CA




-Day Ghost is an Oakland-based band whose dreamy soundscape straddles the line between spooky and sweet, raucous and methodical. The foursome has distilled a distinct brand of electro-rock from a kaleidoscope of genres, ranging from pop to the blues to math rock to funk. Driven by infectious synth progressions and haunting vocal melodies, set aflame by electric guitar and electric violin distortion, Day Ghost keeps an audience on their toes and moving their feet. Punks, witches, and pop queens alike unite under the banner of Day Ghost.