Friday
June 2
2017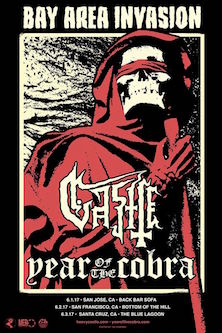 8:00PM

doors -- music at 8:30PM

•••

21 AND OVER




$

12


Castle
www.heavycastle.com/


Metal


Year Of the Cobra
yearofthecobra.bandcamp.com/


heavy psych metal stoner rock


----

Zed

canceled due to illness
Brume
brumesf.bandcamp.com/releases
metal doom pychadelic sludge stoner rock
DJ Rob Metal


metal DJ
---

Castle
Liz Blackwell, Mat Davis, Al McCartney
-from San Francisco, CA
-Titled Welcome To The Graveyard, the follow up to 2014's critically-lauded Under Siege was recorded by Billy Anderson (Sleep, Neurosis, Brothers Of The Sonic Cloth, Eyehategod, Ommadon et al) at Type Foundry Studios in Portland, Oregon this past Winter. Welcome To The Graveyard is set for official unveiling July 15th.

Comprised of 8 tracks written over the last year, Welcome To The Graveyard sees CASTLE merge their doom powered riffing with soaring 1970s rock . The album features a new level of confident songwriting and is a creepy-crawl through the wastelands of the band's new L.A. ­­home; a hard-boiled barrage of classic heavy metal riffery tempered with blasts of melodic orchestrated doom. The perfect soundtrack for a Hollywood cult initiation.

Elizabeth Blackwell's haunted vocal style draws a sigil of death and madness - imagine the Wilson sisters singing hymns from the stygian void, while lyrically CASTLE adapt the stark and compelling vistas of Aleister Crowley's "Amphora" for the song "Traitors Rune" and Eliphas Levi's "Transcendental Magic", whose mystic rumination inspires the lyrical backdrop for the lead-off single "Flash of the Pentagram".

CASTLE was forged in San Francisco in 2009 and released their debut full-length, In Witch Order, on Germany's Ván Records in 2011. The album brought light to the newly-formed band and earned them "Album Of The Year" honors from Metal Hammer Norway, as well as Roadburn Festival's "Newcomer Of The Year." Shortly thereafter, the band joined the Prosthetic Records roster in North America and released their critically-adored sophomore album Blacklands. The record left to a Canadian JUNO nomination for "Metal/Hard Music Album Of The Year." CASTLE performed over two-hundred shows worldwide in support of the release alongside the likes of The Sword, Conan, Intronaut and Pentagram among many others as well as appearances at some of the underground's largest fests including Roadburn and the London and Berlin Desertfests.





Year Of The Cobra


-from Seattle, WA




-YOTC hails from Seattle, WA. Their debut full length album, "In the Shadows Below...", was released on 10/28/16 to high acclaim. The new record was produced, engineered, and mixed by Billy Anderson (High on Fire, Sleep, Melvins, OM, Neurosis, etc.).






Zed
zedisded.bandcamp.com/


metal stoner rock


Greg Lopez – Guitars, Pete Sattari – Guitars/Vocals
Mark Aceves – Bass, Rich Harris – Drums/Percussion
-from San Jose, CA


-Blasting onto the San Francisco Bay Area rock scene in 2007, ZED quickly made a name for themselves with their crushing live shows and incessant grooves. Having played together in various projects since 1998, including releasing an album with the band Stitch for Prosthetic/Metal Blade Records, Guitarist/Vocalist Peter Sattari, drummer Rich Harris and bassist Mark Aceves joined up with guitar wizard Greg Lopes to create a sound that was uniquely their own, a sound whose sole purpose was to rock, with no concern for genres, labels, classifications or rules. Drawing from their varied influences ranging from classic '70s rock, punk/hardcore, metal and old school funk, ZED writes music that grabs you, throws you around and grooves you all at once. The band has been likened to "a pissed off Led Zeppelin with Chris Cornell meets Ian Astbury on vocals," ZED writes songs that linger in your head long after you listen to them.






Brume
Susie - Vox/Bass
Jamie - Guitar
Jordan - Drums
-from San Francisco, CA


-In a world where everything travelled at the speed of sludge, Brume were united by a love of the riff in San Francisco at the beginning of 2014. Jamie McCathie (guitar) moved to California, leaving his UK sludge band Gurt in London but knew as soon as he met Susie McMullan (vox/bass) they'd make music. Instantly bonding over bands like Sleep, Windhand and The Melvins the two got to writing. Arising from the fog came Jordan Perkins-Lewis (Drums), who's unique 'Mr Bungle'esque inspiration rounded out the songs, taking each idea and creating something beyond heavy. The trio headed into Sharkbite studios in Oakland (Sleep, High on Fire, Acid King) to create there first record at the end of 2014, combing fuzz soaked stoner metal, haunting ritualistic vocals and crushing slow and low doom.





DJ Rob Metal
DJ Rob Metal
-from San Francisco, CA
-* A Vinyl Junkie and Purveyor of Extreme Metal ,Stoner Rock and the rest of
the Dysfunctional Family Tree.
* May have been seen at thee Parkside, The Knockout, The Fillmore, and
various other venues who cater to the genre.
Seems to be found at The Bottom of the Hill & DNA Lounge.