Saturday
June 10
2017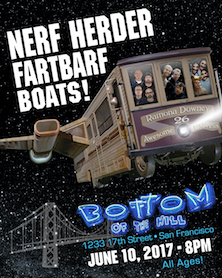 8:30PM

doors -- music at 9:00PM

•••

ALL AGES




$

12


Nerf Herder
www.nerfherder.com/


Nerd Rock, Geek Rock, Punk, Pop Punk


Fartbarf
fartbarf.com/


analog electronic thrash music


BOATS! ----

The Started-Its

are off this bill
www.bestboats.org/


power pop punk




----previously announced show with

All Get Out

~

Can't Swim ~ Souvenirs

now not on June 10th
---

Nerf Herder
Parry Gripp, Steve Sherlock, Linus of Hollywood, Ben Pringle
-from Santa Barbara, CA
-Pioneers of the late 90's Pop-Punk and Geek Rock movements, Nerf Herder are perhaps best known for their powerful theme to the iconic Joss Whedon TV show, Buffy The Vampire Slayer. Formed in Santa Barbara, California, in 1994, Nerf Herder was signed to major label Arista Records soon after their ironic tribute "Van Halen" stormed the Modern Rock charts in 1996. The video for their follow-up single, "Sorry", featured Mark Hamill and Miguel Ferrer, and played regularly on MTV. Following years saw the band touring the world multiple times, and releasing a number of albums on various labels, including esteemed indie punk label Fat Wreck Chords and novelty powerhouse Oglio Records.

The current band features founding members Parry Gripp and Steve Sherlock, with newer members Linus Dotson and Ben Pringle. Nerf Herder's 5th album Rockingham is an explosion of geekness with songs like "At The Con," a song written after a performance at DragonCon last year, "Ghostbusters III," a lamenting tune about how the sequel will never be released, and "I'm The Droid (You're Looking For)," which is made entirely of lines from Star Wars and was recorded at Skywalker Ranch.




Fartbarf
Josh, Dan, & Brian
-from Los Angeles, CA
-We begin in the year 2008 with Josh, Dan and Brian. Three unassuming, well mannered and fun-loving fellows from a town near the sea. Regressed, mutated and collectively known as Fartbarf, they somehow bring us all into the future, captivating audiences with relentless melodies, robotically tight rhythms, and danceable beats by use of a strict limitation of tools at hand; vintage analog synthesizers, vocoders, drum machines, analog modular systems, and live drums.
Fartbarf Manifesto:
1. Set public expectations low, but keep internal standards high.
2. Attempt only to please yourself – if others choose like it, so be it.
3. Avoid all trends. Nothing good ever comes from following them.
4. Create what others cannot easily duplicate (and probably would't want to anyway).
5. Everything fun mustn't always be Fartbarf, but everything Fartbarf must always be fun.





BOATS!
Matt, David, Adam
-from Sacramento, CA


- BOATS! Is an energetic punk rock band from Sacramento, California. They play mostly short, catchy songs, that keep people wanting more and more. Many people have compared them to bands like BUZZCOCKS and The Ramones, but they have their own, unique sound as well.