Monday
June 12
2017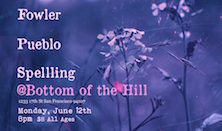 8:00PM

doors -- music at 8:30PM

•••

ALL AGES




$8


Fowler
www.facebook.com/FowlerBand


Rock?


Pueblo
from Brooklyn, New York


www.facebook.com/pueblobrooklyn/
pueblo1.bandcamp.com/


alternative baroque pop indie pop indie rock


Spellling


spellling.bandcamp.com/releases


experimental art pop electronica folk




photograph (in poster) by Anna Mackenzie

---

Fowler
Eli Recht-Appel.
Forrest Nolan.
Simon Clinton.
Tyler Culbreath.
-from San Francisco, CA
-Fowler is to music what Mary Poppins is to the medicinal sugar industry. Born and bred in beautiful San Francisco, their influences include Jeff Buckley, Wilco, Grizzly Bear, Radiohead, Bill Frisell, Elliott Smith, Television, Arvo Pärt, and Curtis Jackson.



Pueblo
Julian Smith
Jonah Smith\
-from Brooklyn, NY
"Pueblo's debut EP, Boring the Camera, is the next evolution in the long musical relationship between Jonah P. Smith and Julian P. Smith.

Formerly members of The Azalea Project, a band locally celebrated in their hometown of Dallas, TX, Smith and Smith moved to Brooklyn in 2016 wiping the slate clean to form Pueblo.

Boring the Camera is a representation of Jonah's highly conscious songwriting abilities combined with Julian's multi-instrumental talent. Together, they created an EP that conveys deep and meaningful lyrics set to musical arrangements that are captivating yet subtle.

Beautifully produced by Paul Williams and featuring Tom Bridwell on the drums, Boring the Camera is out now on State Fair Records."






Spellling


-from Oakland, CA


-"Best new find of the month. Looking forward to hearing more. very engaging"
"Sultry vocals...with excellent accompaniment of electronic music...dreamy yet still dark."