Tuesday
June 13
2017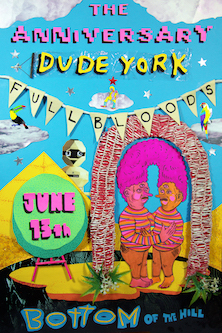 7:00PM

doors -- music at 8:00PM

•••

ALL AGES




$

20

in advance

/ $25

at the door
The Anniversary
www.facebook.com/theanniversaryband/


Emo, indie rock


Dude York
dudeyork.bandcamp.com/


teenpop


Fullbloods
www.fullbloods.com/


kinda funky but not too funky
---

The Anniversary
Jim David, Adrianne Verhoeven, Josh Berwanger, Justin Roelofs, Janko
-from Lawrence, KS
-Early '00s emo greats the Anniversary are back!
The Anniversary was an American band formed in Lawrence, Kansas in 1997 by Josh Berwanger, James David, Christian Jankowski, Adrianne Verhoeven and Justin Roelofs. The Anniversary was the solidification of a line-up that had been in flux for a year. After two years of playing shows across with the Midwest with bands that included The Get Up Kids, Braid and Superchunk, The Anniversary signed to Vagrant Records.
Originally perceived as a poppy, keyboard-driven emo band with the release of their debut album Designing a Nervous Breakdown in 2000, they developed a stronger, classic rock influenced sound with the release of a split CD with Superdrag in 2001 and their second full length, 2002's Your Majesty. After touring heavily throughout 2002 and 2003, The Anniversary began demoing tracks for what would be their third full length. But four years of constant touring and personal strains within the group led to the band's demise in early 2004.




Dude York
andrew, claire, peter
-from Seattle, WA


-Dude York's Sincerely opens with a blast—the massive opening chords of "Black Jack," a squealing track that blends the swagger of glam with the heavy riffing and ringing hooks of arena rock. The Seattle-based trio—Peter Richards on guitar and vocals, Claire England on bass and vocals, and Andrew Hall on drums—is announcing itself with an album that couches its themes of anxiety and eroding mental health in rock tracks that amp up the sweetly melodic crunch of powerpop with massive distortion and bashed-to-heck drums. Sincerely is a loud, sweaty rebuke to those moments in life when it seems like nothing's working, a testament to the power of friendship, staring problems directly in the face, and finding solace in art.






Fullbloods
Ross Brown, Jerad Tomasino, Bill Pollock, David Seume
-from Kansas City, MO
-Ross Brown is an unassuming young Midwesterner who leads a group of fellow unassuming Midwesterners in a pop band called Fullbloods. "We're a boring band with no story," Brown says.

Well — maybe the story is the songs. By that metric, Mild West, the second full-length from the band (and first on Kansas City label High Dive Records), is a saga, stacked from top to bottom with melodic songwriting and dazzling production.

It's the destiny of many sonically curious, production-minded musicians to come under the spell of Steely Dan, the patron saints of studio wizardry. Brown— a guy who's happier demoing experimental tracks in his basement cave than performing for the beery local masses — is of this tribe, and Mild West is him swinging for those fences.

"We wanted to achieve the qualities of hi-fi late '70s hits," Brown says of the creation of Mild West. "We came up with some reference material — Dire Straits, Boz Scaggs, Teddy Pendergrass, Wings, Fleetwood Mac, and the ineffable Steely Dan — and did a lot of intense listening. It's arguably our favorite part of being a band."

Fullbloods point their flashlights in those satiny corners on parts of Mild West. Fans of Donald Fagen's quiet jazz-pop masterpiece The Nightfly will find much to love about tracks like "Neverminded," "New Generation" and "Shrimp Etouffee." But Mild West is hardly revivalism. Elsewhere there are more modern influences, like Richard Swift and Real Estate — exceptional songwriters who put a lot of thought into making their records sound beautiful.