Thurs
day
June 15
2017
TBA
----

previous show (with Mrs Magician) canceled
*Refunds will be automatically issued to whose who had bought advance tickets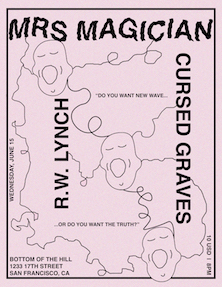 Thurs
day
June 15
2017

8:30PM

doors -- music at 9:00PM
•••
21 AND OVER
$
10

Mrs Magician
pop garage rock
Cursed Graves
surf punk emo hardcore noise shoegaze
R W Lynch
formerly

Dominant Legs
Pop


---
TBA


-




-






TBA


-




-






TBA


-




-











---

----

previous show (with Mrs Magician) canceled




*Refunds will be automatically issued to whose who had bought advance tickets



Mrs Magician
mrsmagician.bandcamp.com/


pop garage rock


Jacob. Tommy. Cory. Farmer.
-from San Diego, CA
-Bermuda is the latest effort by San Diego's dismal-pop outfit Mrs. Magician and their second full-length release on Swami Records.

The album offers a concise collection of punk songs inspired by the big sounds of classic '60s pop and rock 'n' roll, with structures more associated with '70s and '80s power pop. Thomas Garcia's blissed-out backwash guitar tones and fuck-it fuzz attack juxtapose the band's dry and thudding foundation, creating a tropically depressed grog. Cutting through the lacquer with a glossy shimmer, producer Swami John Reis (Drive Like Jehu, Rocket From The Crypt, Hot Snakes) coaxes a tightly wound, rigid backdrop for vocalist Jacob Turnbloom's morose-pop delivery.

Lyrically far more non-linear than their 2012 debut album Strange Heaven, Bermuda echoes the familiar self-deprecating humor that is heavily present in the band's prior work, but focuses less on interpersonal relationships, favoring broader inspirations of alienation and melodrama. Themes of gentrification, addiction, religion and the intoxicating aroma of modern day conspiracy theories wrestle against a bright and tight sonic terrain. This is the ghetto of Kokomo.

Bermuda has a boozy and breezy island malaise on the surface. But once submerged, the listener is exposed to confusion, nihilism and the notion that even with all of our technology and omnipresence of big brother, essentially we are all still very lost.




Cursed Graves
cursedgraves.us/


surf punk emo hardcore noise shoegaze




-from San Francisco, CA




-a group of humans






R W Lynch


(formerly Dominant Legs)


www.facebook.com/rwlynchmusic/


Pop


Ryan Lynch
-from San Francisco, CA


-Ryan Lynch formerly of Dominant Legs will be doing a solo set!