Saturday
June 17
2017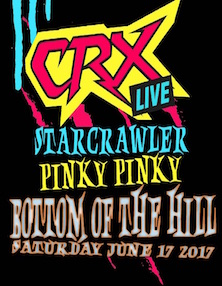 8:30PM

doors -- music at 9:00PM

•••

21 AND OVER




$

13

in advance

/ $15

at the door
CRX
www.crxmusic.com/


Stoner rock, Power pop rock, Garage rock, New wave


Starcrawler
www.facebook.com/starcrawlertheband/


rock & roll


Pinky Pinky
www.facebook.com/pinkypinkytheband/


Rock
---

CRX
Ralph Alexander, Richie Follin,
Nick Valensi, Darian Zahedi, Jon Safley
-from Los Angeles, CA
-The urge to begin a new project, for CRX's Nick Valensi, came from a primal place: He just wanted to play. "I was at a place where I got really hungry to perform in front of audiences, and do things a little more simply," Valensi says. "The Strokes don't play that often anymore, and when we do it's awesome, but it got to the point where I needed to balance that out with a project I could take on tour whenever I wanted to. And the idea of playing clubs again was really exciting to me." But Valensi couldn't start playing until he'd written some songs, and he realized he'd have to finally embrace an aspect of performing he'd resisted up until that point -- singing. Last summer, he just dug in, grabbing whatever spare time he had to record demos on his laptop at home. "It was a learning process," says Valensi. "It took me some time to figure out how my voice sounds most natural, and to think about what I wanted to say."
After demoing several songs, Valensi reached out to Queens of the Stone-Age's Josh Homme, for feedback on the tracks and advice regarding producers who might be right for the band. It quickly became apparent that there was no better person for the job than Homme himself. "He was really enthusiastic about the demos," says Valensi. "There were even specific things he loved from the demos so much that we ended up including them on the album, which was very much a Josh decision."

New Skin, CRX's debut album, was recorded at Homme's Pink Duck Studios in Burbank, with work wrapping up in early 2016. And even as this year marks the fifteenth anniversary of The Strokes first LP, it represents the beginning of a promising new chapter for Valensi. "One of the coolest things for me is that I began making this record as a vehicle to get onstage," he says, "but along the way, it started to feel like we were working on something more special than that. I'm excited to be singing and having a lot of fun with it, and I'm really enjoying the feeling of having to work hard to win people over. It's like being a kid again -- like everything is new and kind of scary but irresistibly fun, too."




Starcrawler
Henri Cash- Guitar
Austin Smith- Drums
Arrow de Wilde- Vocals
-from Los Angeles, CA
-When Los Angeles rock outfit Starcrawler learned that Elton John was planning to spin its debut (then, only) single "Ants" on his Beats1 radio show, Rocket Hour, they were predictably pumped. "I got the email at school and started screaming in the halls," confesses Arrow de Wilde, Starcrawler's fully fearless frontwoman and the teenage daughter of drummer Aaron Sperske and photographer Autumn de Wilde. "We couldn't get the show to play at home and we thought we were going to miss it!" recalls Austin Smith, Starcrawler's drummer. "A bunch of my friends came over to listen to it," says Arrow, "and showed up right at the right time. It was the first song on," Austin adds. "The the song is only one minute long," explained Arrow, "so once it was over, we were just like… 'alright, cool!'" they both laugh. But don't think they got shorted 14 minutes of fame. "Ants" is packed with explosive, gritty rock 'n' roll riffs and a dexterous, commanding vocal courtesy of de Wilde. One fan describes it as "if T-Rex and Bauhaus had offspring." Another thinks, "Joey Ramone is smiling from rock and roll heaven!" And that's just the recording. Starcrawler has played most of its live shows in its native California, at venues like the Orange County Observatory, or The Echo in Los Angeles, where the band opened for prodigious Long Island brothers The Lemon Twigs. But some front row fan footage has found its way to YouTube. If Starcrawler's raucous wall of sound — rounded out by guitarist Henri Cash and bassist Tim Franco — doesn't get your head banging, de Wilde's sinister, blood-spewing stage antics sure as hell will. Equally inspired by Ozzy Osbourne and Iggy Pop, she stalks the stage in a straight jacket and rhinestone-encrusted jockstrap like a pure performance pro.






Pinky Pinky


-from Los Angeles, CA




-Pinky Pinky, a 3-piece Proto-Prog inspired rock band out of Los Angeles featuring teenagers Isabelle Fields (17, Guitar), Eva Chambers (17, Bass) and Anastasia Sanchez (19, Vocals/Drums).