Friday
June 23
2017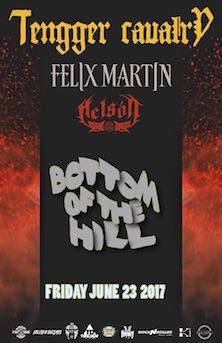 8:30PM

doors -- music at 9:00PM

•••

21 AND OVER




$

14

in advance

/ $17

at the door
Tengger Cavalry
www.tengger-cavalry.com/


folk meta


Felix Martin
www.felixmartin.net/


jazz metal fusion


Helsott
helsott.com/


folk thrash metal
---

Tengger Cavalry
Nature G (vocal & guitar), Alex Abayev (bass), Josh Schifris (drum), Uljmuren De (fiddle) and Robert McLaughlin (fiddle
-from New York, NY


-Tengger Cavalry, or "the army of sky god", is not only a Billboard-featured metal band, but also a symbol of nomadic warrior spirit that connects fans from all over the world. With a mix of throat singing, Mongolian fiddle and Central Asian instruments, the band performed a sold out concert at Carnegie Hall and featured in CNN, New York Times and The Wall Street Journal.






Felix Martin


-from Los Angeles, CA


-FELIX MARTIN is a Venezuelan guitarist who is pioneering a style of playing the electric guitar by performing simultaneously with two of them as if they were one, creating a new sound on the instrument.

Felix is pushing music into new boundaries by mixing Rock and Metal with different styles such as Jazz, Progressive, World, Latin, Fusion, etc. The uniqueness of his guitars and technique allows him to create distinguished sounds that makes the music sound unique.

Felix has toured with his band that includes Berklee Alumni drummers and bassist Kilian Duarte throughout the USA, Europe and South America. Played in festivals such as Progressive Nation, SXSW, Euroblast, Tech-Fest and many more.

Felix uses his self-designed 14 and 16-string guitars, which are two regular guitars in one, in a way never seen or heard before. This opens up a new and hidden world for the electric guitar and instrumental music. Felix pioneered this style of playing at the age of 13, and as of 2014, he remains the only one in the world who plays this way.

Felix Martin and his band are currently recording a highly anticipated self-titled album, as well as touring around the release date.





Helsott
Eric Dow-Vocals, Mikey Muller-Bass
Cooper Dustman-Drums
David Walston-Lead Guitar
Session Members:
Steph Robinson-Live and Studio Orchestrations/Keys/Vocals
Josiah Guile-Live and Studio Vocals
-from Menifee, CA


-Formed February 2010…Helsott, meaning "Fatal Illness" in Old-Norse, are a Melodic Death Metal band from southern California. The band proudly pay homage to pagan cultures and ancient mythologies while keeping true to their American influences. In 2013 the band embarked on their first North American tour as part of the Paganfest festival tour line-up which included Ensiferum, Tyr, Heidevolk, and TrollfesT. In 2014 the band successfully crowd-funded their debut full length album titled "Woven" and was self released to great reviews all over the world. 2015 saw the band touring the U.S. again on a summer headlining tour in support of "Woven" and a fall tour supporting Arkona and Heidevolk. In 2016 Helsott recorded their follow up EP titled "The Healer" which was recorded in part at Trench Studios and mixed and mastered by J-F Dagenais (Kataklysm/Ex Deo). January 2017 Helsott signed to M-Theory Audio owned by former President at Century Media's Marco Barbieri and are gearing up for future tours.